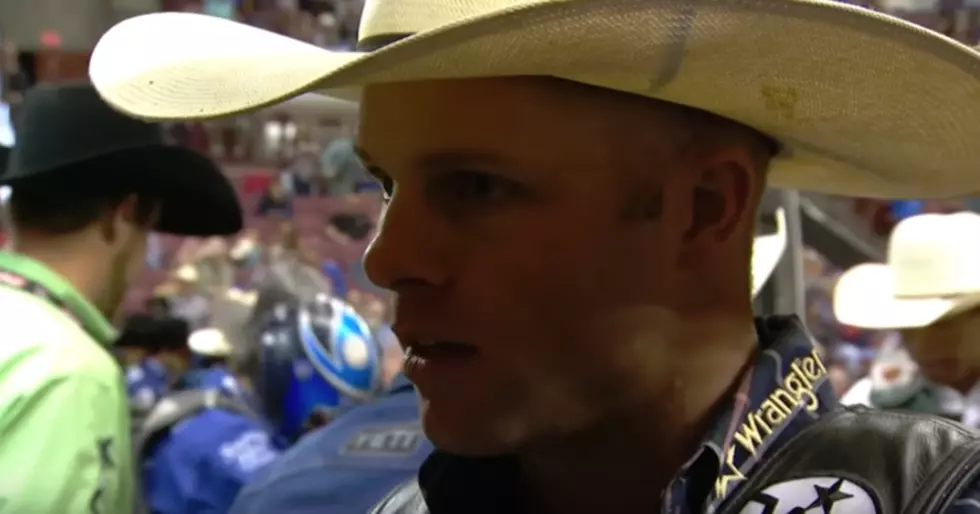 Joe Frost Rides In Memory Of His Cousin Lane At Cheyenne Frontier Days
PBR, YouTube
Joe Frost never met his second cousin Lane, the world champion bull rider who died before he was born. Nearly 30 years after the darkest day in CFD history, Joe returned the site of his legendary cousin's final ride.
Now 26, Joe is carrying on the Frost family tradition with the Professional Bull Riders. After winning his first PBR event earlier this year, Frost scored an 86.5 in the first round of the PBR Last Cowboy Standing event in Cheyenne last night. Entering the final round, Frost is in fourth place, trailing leader Cooper Davis by less than two points.
"Lane died there," Joe told PBR.com. "Cheyenne's a big rodeo. It's a great rodeo, and one I'd dang sure like to win."
Joe will have Lane on his mind when he goes for the title tonight.
"I think about Lane all the time, he's one of my heroes," Joe continued. "My grandad and Lane are two of the biggest role models in my life and I never met either of them, but I was lucky to get to know them through my uncle Clyde and my dad. So I had them as role models too."
July 30, 1989, Lane had just completed an 85-point ride on the bull Takin' Care Of Business. When he landed in the dirt, the bull's horn struck Frost in the back, breaking several ribs and severing an artery. The 1987 World Champion originally got back on his feet and motioned for help, then went into cardiac arrest and was rushed to the hospital, where he was pronounced dead.
In 1990, Frost was posthumously inducted into the Pro Rodeo Hall of Fame. To commemorate the tenth anniversary of his death, he was inducted to the Cheyenne Frontier Days Hall of Fame in 1999.
Joe might not make the CFD Hall of Fame like his cousin did, but a win tonight at PBR Last Cowboy Standing would rank among the greatest moments in Frontier Days history.