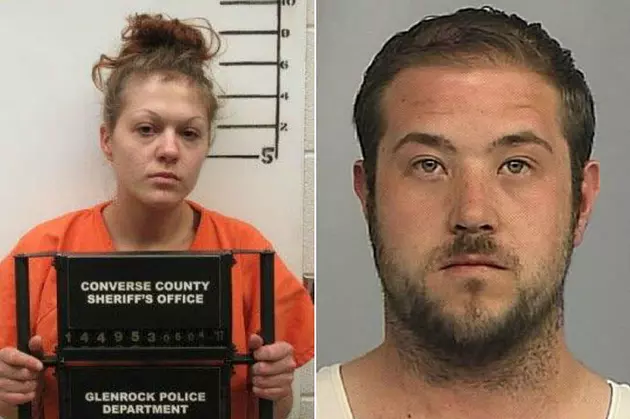 Casper Woman In High-Speed Chase Sentenced To 20 Years For Drug, Gun Crimes
Santana Keener, Converse County Sheriff's Office/ Christopher Eads, Natrona County Sheriff's Office
A co-defendant in a drug conspiracy case, who with her boyfriend led law enforcement on a high-speed chase resulting in an armed standoff in Casper in June, was sentenced to 20 years of imprisonment on Thursday.
U.S. District Court Judge Scott Skavdahl sentenced Santana Keener to 10 years of imprisonment for carjacking and conspiracy to distribute heroin and methamphetamine, and a consecutive 10 years for discharge of a firearm during and in relation to a drug trafficking crime.
Three other counts -- two for firearms and one for possession with intent to distribute heroin and methamphetamine -- were dismissed as part of a plea deal in December.
Skavdahl also ordered Keener to serve five years of supervised release after prison, receive drug and psychiatric treatment, and pay nearly $7,300 in restitution.
The sentencing for co-defendant Christopher Eads is scheduled for next week. He faces a sentence at least as harsh as Keener's.
The case started in April when an agent with the Wyoming Division of Criminal Investigation discovered a drug-trafficking organization in Natrona County, and identified Eads as its main supplier of methamphetamine and heroin, according to court records.
Eads traveled to Colorado on a weekly basis to re-supply and expand the organization. The DCI later placed a tracking device on Eads' sport utility vehicle.
On Saturday, June 3, state and federal agents knew Eads and Keener would be returning from Denver after a drug purchase. They planned to stop them on Interstate 25 before they reached Casper.
Kenner was driving that night, and somewhere between Glenrock and Casper realized she was being followed, and a chase ensued.
The engine of their SUV stalled, Eads started shooting at law enforcement, Kenner started driving again, Eads switched seats and he began driving toward Casper.
He stopped in a median, turned around and drove south toward officers at speeds up to 100 mph even after spike strips blew two tires and officers were shooting at them.
Eads drove into Glenrock.
Officers found the SUV and shortly after that received a report of an elderly woman who had been assaulted in her home. Eads took the keys to her car, and drove it through a garage wall, according to court documents.
The car was abandoned in a ditch in Glenrock. Eads assaulted a Glenrock police officer and stole his patrol car.
Eads left Keener in the ditch in Glenrock, too.
She was arrested and taken into custody where officers found heroin on her person.
Eads later crashed the police car, stole another vehicle and drove north on I-25. Officers chased him into Casper.
He stopped at Dayton Transmission on East F Street where the standoff ensued. It ended about 2:30 a.m. Sunday, June 4.
The case started in Natrona County District Court and was later transferred to federal court.