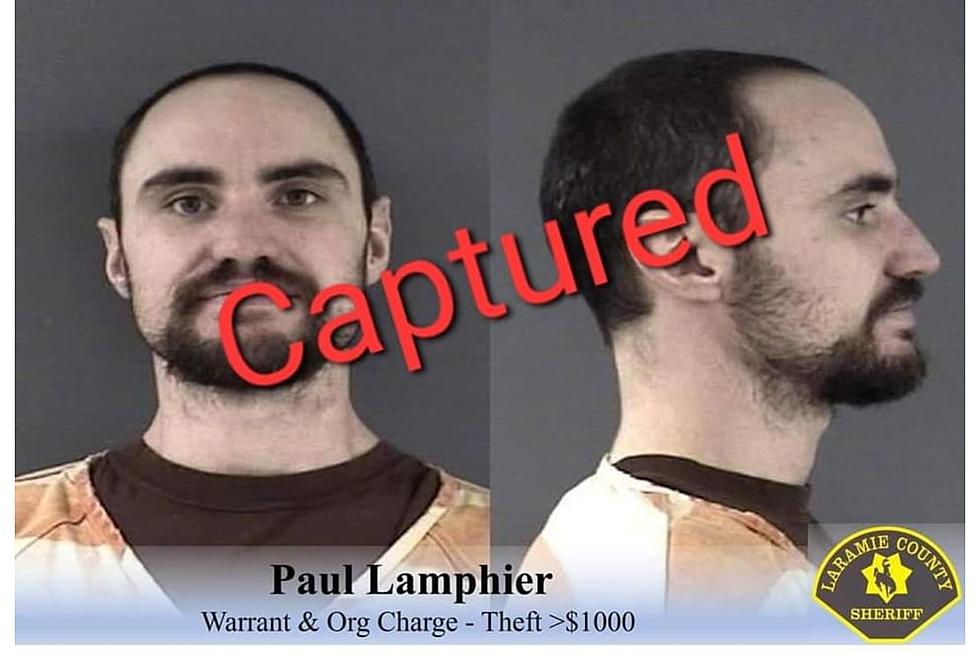 Platte County Deputy Nabs One of Laramie County's 'Most Wanted'
Laramie County Sheriff's Office via Facebook
Another fugitive on the Laramie County Sheriff's Office's "Most Wanted" list has been captured, the department announced in a Facebook post late Wednesday morning.
The LCSO gave a shout-out to Deputy Orr of the Platte County Sheriff's Office for capturing Paul Lamphier.
According to a booking sheet, the 32-year-old Wheatland resident is being held on a Laramie County District Court warrant for failure to appear on three dockets with original charges of felony theft, theft of a motor vehicle, possession of marijuana, conspiracy to commit theft, and felony theft.
Lamphier had been on the "Most Wanted" list since Nov. 3.
Deputies are still searching for Gilbert Martinez, Alicia Morris, and Gina Scott, who were part of the new list released on Sept. 29; Stephanie Jackson and Angel King, who were added to the list on Nov. 3; and Akmir Brown, Corey Brown, Jennifer Davidson, and Andre Pendleton, who were added to the list on Nov. 9.
If you know where these desperados are, please call the Laramie County Combined Communications Center at 307-637-6525.
Tips that aren't time-sensitive can be submitted by calling Crime Stoppers Silent Witness at 307-638-TIPS or visiting silentwitnesslaramiecounty.com.
Informants will remain anonymous and may be eligible for a cash reward of up to $1,000.
All suspects are presumed innocent until proven guilty in a court of law.
RELATED:
Indications Of A Gambling Addiction
Here are some indications you may have an addiction to gambling. There is help available. Call 1-800-GAMBLER or visit
ncpgambling.org
Gallery Credit: Dr. T