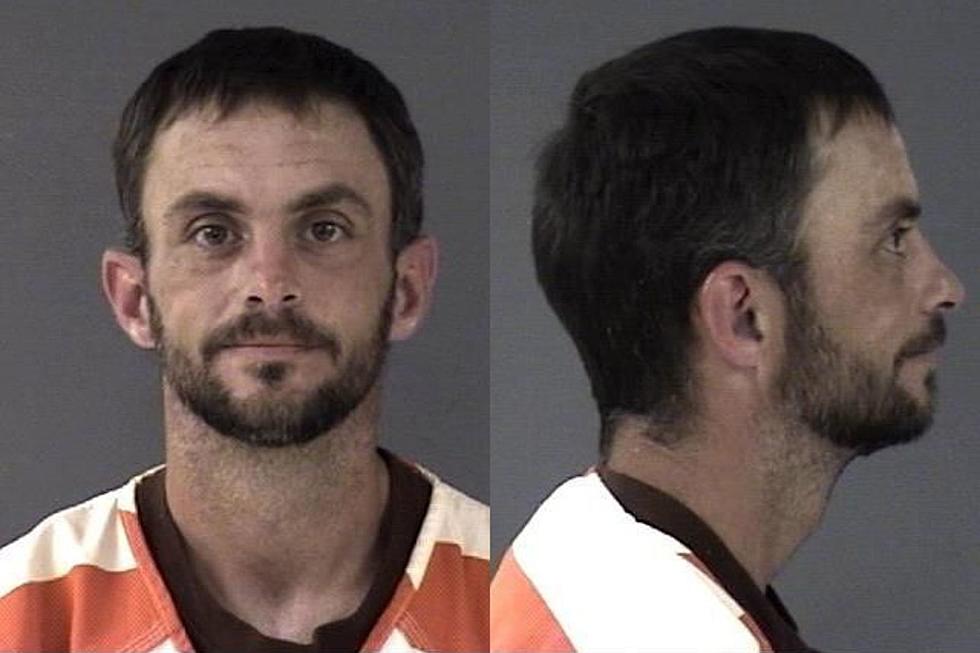 Laramie County Deputies Win Another Game of Hide-and-Seek
Laramie County Sheriff's Office
Another man on the Laramie County Sheriff's Office's "10 Most Wanted" list has been captured.
According to a booking sheet, 35-year-old Kirk Kelly Poynor Jr. was taken into custody at 12:22 p.m. yesterday, July 26, after Deputy Groendal, who was driving down South Greeley Highway, spotted him.
Knowing Poynor had a felony warrant out of Laramie County for probation revocation on an original charge of possession of a controlled substance, Groendal tried to stop Poynor and talk to him, but Poynor took off running.
Deputies later found Poynor hiding in a yard near the intersection of East Fox Farm Road and South House Avenue.
According to Groendal, Poynor initially lied about his identity, but came clean after Groendal said, "Kirk, I know it's you."
When Groendal searched Poynor's belongings prior to placing him in his patrol car, he reportedly found a small bag of suspected methamphetamine and a small bag of suspected marijuana.
Poynor was subsequently arrested and booked into the Laramie County Detention Center on the warrant as well as misdemeanor possession charges and interference with a peace officer.
Poynor made his initial court appearance on the misdemeanor charges this afternoon, July 27.
His bond was set at $500 cash and his arraignment was scheduled for Aug. 21 at 10 a.m.
Since posting its "10 Most Wanted" list on Facebook on June 14, the Sheriff's Office has caught 19 people -- Michael Christopher Gutierrez, Linda Darlene Erwin, Jamar Lee Jackson, April Dawn Lindauer, Dakota Sky Pratt, Larry Dean Washington, Frank Jay Hardy Jr., Jessey Michelle Smith, Stacey Raymond Walter, Jessica Marie Olivares, Jared James Munoz, Jayme Mae Russell, Donald Eugene McDaniel, Erik Robert Woolley, Thomasine Lynn Wilson, Joshua Lee McCard, Scott Dearole Bressette, Victoria Barbara Hunt, and Poynor.
Savion Maleak Selby, who was on the list before it was publicized, was also taken into custody on June 9.
Shanna Jolley was removed from the list due to her warrant being quashed.
The Sheriff's Office is currently looking for the following five people:
RELATED:
Al Capone's Canadian Hideout