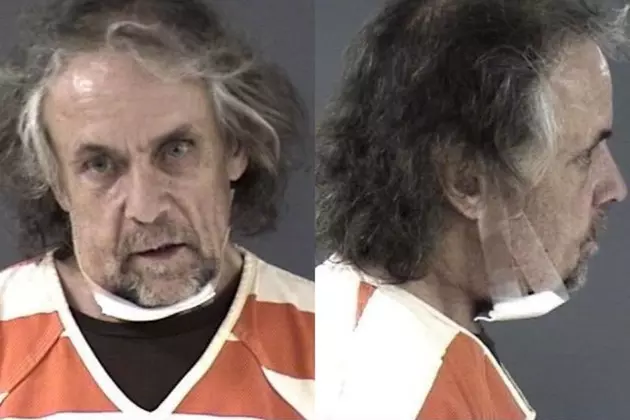 Wanted Cheyenne Man Caught With Pocket Full of Meth
Laramie County Sheriff's Office
A wanted Cheyenne man is facing a felony charge after he was reportedly caught with a pocket full of methamphetamine.
According to a booking sheet, a Laramie County Sheriff's deputy was on routine patrol around 2:45 a.m. Tuesday, Oct. 24, when he saw 63-year-old John Earl Baker Jr. enter the Loaf 'N Jug on the South Greeley Highway.
Knowing Baker had an outstanding warrant for failure to appear, the deputy waited until Baker exited the store and then approached him and told him he was being detained for a warrant.
The deputy then ran Baker's name, and dispatch confirmed Baker had two warrants out of Laramie County Circuit Court for failure to appear -- one issued by Judge Sean Chambers on Oct. 12 on an original charge of first-offense compulsory auto insurance and the other issued by Judge Thomas Lee on Oct. 17 on an original charge of valid certificate of title, certificate of registration.
After placing Baker in the back of his patrol car, the deputy noticed a bulge in the breast pocket of Baker's shirt.
The deputy removed a black baggie with a pull closure and found three Ziploc bags inside, one with white residue, one with approximately one gram of suspected crystal methamphetamine, and one with approximately six grams of suspected methamphetamine.
When asked how much methamphetamine was in the bag, Baker reportedly told the deputy about an ounce.
Baker later said the bag was junk methamphetamine and he wanted to see if he could turn it into something.
Baker was booked into the Laramie County Detention Center on the warrants and subsequently charged with felony possession of methamphetamine.
He's currently being held on a $5,000 cash bond awaiting a Nov. 2 preliminary hearing.
Hottest Halloween Costume Trends of 2023 According to Google
From spooky to spectacular, check out what Halloween costumes are trending in 2023.
Gallery Credit: Danielle Kootman