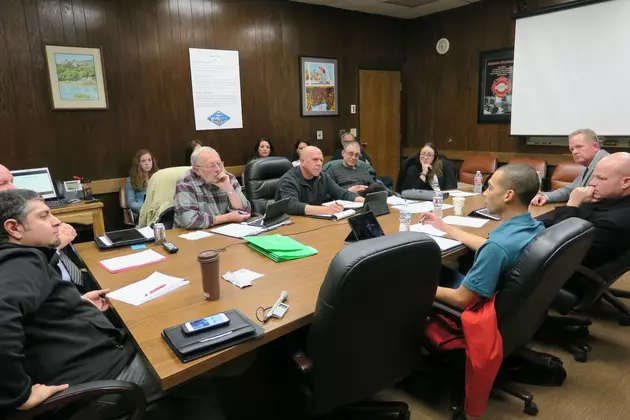 Smokeout: Casper City Council Nixes Another Look At The Smoking Ban
Tom Morton, Townsquare Media
Casper City Council narrowly decided Tuesday to not revisit the strict smoking ban approved by voters 14 months ago.
Council members cast a nonbinding 4-4 vote after a 45-minute discussion to not consider crafting a new ordinance to relax the total ban that prohibits smoking in  buildings with public access.
That meant the proposal died. Mayor Kenyne Humphrey was out of town, and Vice Mayor Ray Pacheco called her and put her on a speaker phone to ask what she wanted to do to break the tie.
"So my vote will stand by what the public said at the election," Humphrey said. "I guess I would not want to bring smoking back."
And so it ended two weeks after Chris Walsh asked for the discussion.
Walsh said bar owners have told them the total ban has hurt their businesses by pushing customers to bars with smoking outside city limits.
"I don't believe for a minute that it's changed anybody's personal habits or behaviors," Walsh said. "To me, it's nanny government, a government overreach on stopping people from trying to -- I'm not going to tell you that smoking's not bad for your health -- but we're not legislating healthy behaviors on legal products."
City residents, Walsh said, did not turn out in high numbers for the referendum in November 2015 to reverse council's June 2013 decision to relax a total ban decided by council a year earlier. Of the 6,272 ballots cast -- 34 percent of the registered voters in the city -- 54 percent voted for the total ban.
Shawn Johnson, Todd Murphy and Jesse Morgan agreed with Walsh, with Murphy adding voters should not have the ability to decide what a business owner does.
Amanda Huckabay worked with the Smoke Free organization, and said she ran on a platform to not spend time or money on inconsequential matters. She reminded the five council members who were on the council at that time they authorized the referendum.
Shawn Johnson said the city doesn't need another referendum, because council on its own could decide to relax the strict ban.
But Charlie Powell, a longtime proponent of the strict ban, said any such ordinance will lead to another petition drive and another referendum.
Revisiting the ban will have consequences far beyond whether bars would allow smoking because the city's economic future depends on its ability to attract Millennials and their businesses here, Powell said.
Millennials take into account quality of life matters including smoking before deciding whether to move or set up a business in a community, he said. "The mere fact that we are having this conversation right now is causing us damage with that population because they cannot believe that anybody in today's world even have a discussion about smoking in public places."
Bob Hopkins scoffed at that idea.
Hopkins favored relaxing the strict ban in 2013, but doesn't have much hope for it a second time around, he said. "I don't think this is a winnable battle, guys."
After Walsh asked for the informal vote, Huckabay chided the council for opposing the voters' will.
"Fifty-four percent voted in favor of this," she said. "I think to keep revisiting this issue shows, A, that we're ignorant and we just flip-flop on this matter; and B, that we don't have the faith that our citizens are educated enough to make a decision," she said.