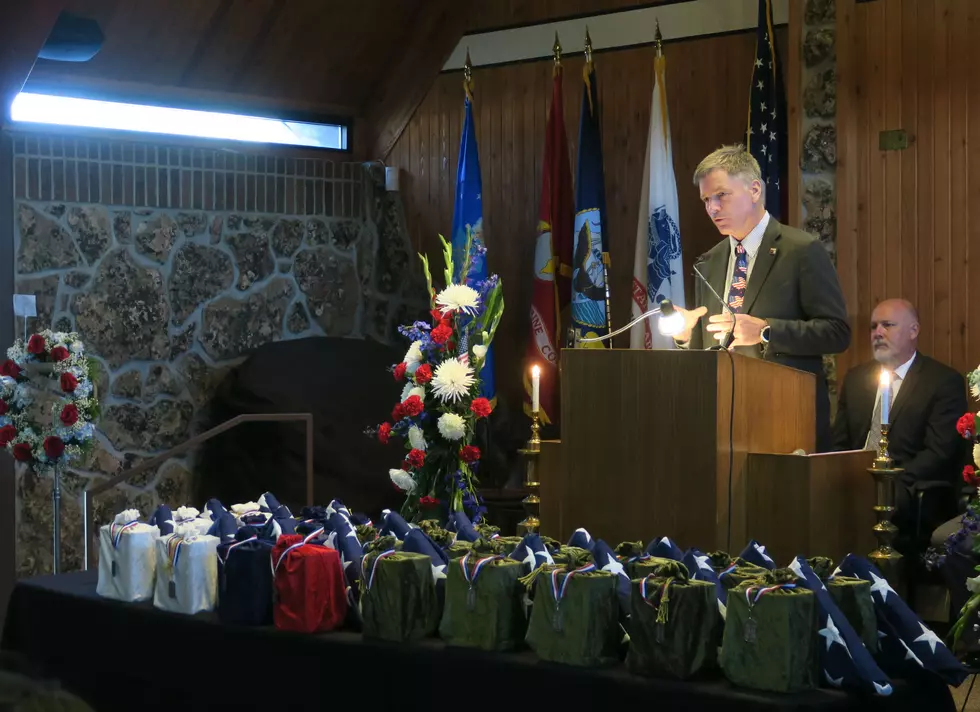 No Longer Alone; Recovered Cremains Interred at Wyoming Veterans Cemetery
Gov. Mark Gordon.
Tom Morton, Townsquare Media
They died often alone, forgotten and unclaimed.
Thomas Dixon, Wyoming, Army.
Jack Lewis Speck, Detroit, Army.
Hank William Scott, Denver, Navy.
Clark Stafford Clark, New York, Air Force.
Chad Lawrence Sanders, New York, Marine Corps.
Wednesday, they had family.
Their lives were among more than 20 who were honored by about 200 service members, veterans, public officials, law enforcement officers, the Patriot Guard motorcycle club, and just plain residents who gathered at the chapel of the Oregon Trail State Veterans Cemetery in Evansville.
Before the ceremony began, law enforcement officers -- two at a time -- walked into the chapel. One officer carried a triangle-folded flag. The other carried an urn covered with the colors of their branches of service: green for Army, blue for Air Force, white for Navy, red for Marine Corps. Dog tags were displayed on the front of the urns.
Gov. Mark Gordon complimented the veterans in attendance, and especially Tammy and Jeffrey Mansfield who started the Wyoming chapter of the Missing in America Project that helped organized the event.
Gordon recalled a conversation he had with friends in the Patriot Guard about the importance of this ceremony: "That America, that Wyoming and that those in this room remember the sacrifice, the love of this country, and the great future they had post war for this country and here they are."
Those working with the nationwide Missing in America Project, he said, have visited 2,362 funeral homes and have found 19,893 cremains. Of those, 4,511 have been identified and 4,133 have been interred.
In Wyoming, about 400 cremains sit in about 25 funeral homes awaiting proper interment, he added.
After the reading of the names of the deceased, the Casper Professional Firefighters Pipes and Drums played "Amazing Grace"; a three-volley salute was fired;  taps was sounded; and a flag was unfolded, refolded 13 times into a triangle, and presented to Tammy Mansfield.
The ceremony included a tribute to Cecil Barnes, longtime head of the Natrona County United Veterans Council. Wednesday's event marked Barnes officiating at 3,000 services for veterans, Chaplain Michael Stedillie said.
After the service, Tammy Mansfield, state president of the Wyoming State Society of the Daughters 1812, said she and her husband started looking for veterans' graves without headstones in Sheridan County.
That interest evolved into working with the Missing in America Project to find the cremains, identify the veterans and properly bury them, she said. The project will do the same for Natrona County, she added.
The veterans' ashes weren't necessarily forgotten, but rather a matter of claiming them, Mansfield said.
Until 2006, only family members could claim cremains, but a law passed that year allowed veterans service organizations to claim them if no one else came forward, she said.
Sheridan County has a veterans hospital, and many veterans come from out of state to stay there until they die, Mansfield said.
Volunteers with the project research the veterans' lives in newspaper articles and paperwork from the funeral home. She and her husband also knew some of those who were interred Wednesday, she added.
Mansfield's boss is Roger Graves, who is the regional coordinator for the Missing in America Project. After he retired in 2007, he said he started going to funeral homes to find, identify and properly bury veterans' unclaimed remains.
The project has found and buried Civil War veterans and spouses to men and women in their 30s to their 90s, Graves said. There may be as many as 200,000 unclaimed remains nationwide, but the job will never be done because veterans coming home now may be in the same position in 20 years, and that doesn't count the 22 veterans who die by suicide daily, he added.
That underscores the sadness underneath the pomp of ceremonies like Wednesday's.
"Probably 95% of the vets we inter are combat vets," Graves said.
"A lot of these people come back changed; they're not the same as they were 17 and 18 when they signed up -- come back, choose a lifestyle of being a loner -- no friends or family oftentimes by their own choosing," he said.
"Sometimes the only way they can survive is to live on their own," Graves said. "They die alone, and we feel it's our duty to make sure that they don't die, or at least honored in this way. You might die alone, but that doesn't mean you don't have friends and family."
The ceremony proved that, he said. "I think we could all say we're family."