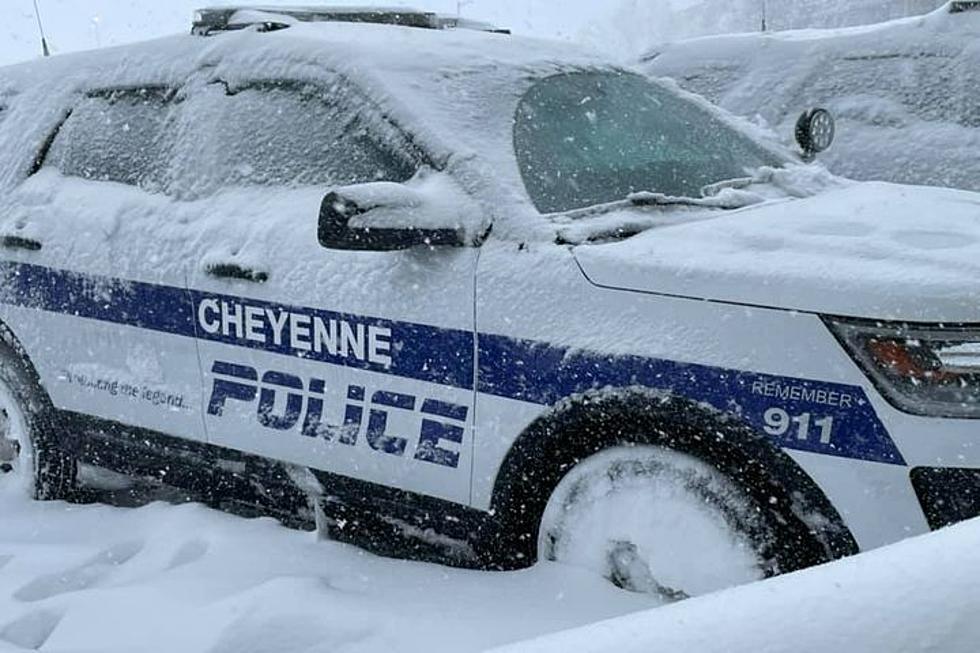 LIST: Cheyenne Area Weather-Related Cancellations and Closures
Cheyenne Police Department
Below is a complete list of weather-related cancellations and closures that have been sent to KGAB Radio.
This list will be updated as new cancellations and closures come in.
Laramie County School District 1 on Two-Hour Delay Jan. 19
Due to predicted winds and hazardous road conditions, the district will start Thursday, Jan. 19 on a two-hour delay.  Students and staff are to arrive two hours after their normal start time and bus routes will run two hours later than normal.  Breakfast service is canceled, only lunch service will be offered. Classes will run with shortened periods and dismissal will occur at the regular time.
We will continue to monitor conditions and will communicate any updates as necessary.
SCREENING OF THE FILM "SEXTORTION: THE HIDDEN PANDEMIC"
RESCHEDULED IN CHEYENNE DUE TO INCLEMENT WEATHER
The United States Attorney's Office announced that tonight's screening in Cheyenne of the documentary, "SEXTORTION: The Hidden Pandemic," has been cancelled due inclement weather. Laramie County Community College is closing early due to the winter storm. The new date and time is set for 6:00 p.m. on Tuesday, January 24, in the auditorium at Laramie County Community College. The Laramie showing is still scheduled to take place at 6:00 p.m. tomorrow
night at Laramie High School.
The United States Attorney's Office is partnering with the Governor's Human Trafficking Task Force, Uprising, the Wyoming Division of Criminal Investigation, and the Wyoming Division of Victim Services to screen the film in communities across Wyoming in the coming months.
Each event will include a screening of the film, followed by a panel discussion on current trends in Wyoming and tips on how to keep children safer. The following is a list of tentative dates and locations.
January 19: 6:00 p.m. at Laramie High School – Laramie
January 24: 6:00 p.m. at Laramie County Community College – Cheyenne
February 1: 6:00 p.m. at Cody Auditorium – Cody
February 2: Sheridan
March 21: Fort Washakie/Riverton
March 22: Lander
April 4: Casper
April 5: Gillette
May 22: Rock Springs
May 23: Evanston
If you are interested in hosting the film in your community, please contact the United States Attorney's Office's Victim/Witness Coordinator Yulonda Candelario at 307-772-2124.
LCCC Weather Closure – Cheyenne Campus
Due to current and anticipated weather conditions, LCCC will close the Cheyenne campus at noon on Wednesday, Jan. 18. All events and classes on the Cheyenne campus are canceled for the remainder of the day. The Laramie campus will remain open for services and classes.
For updated information, visit lccc.wy.edu or LCCC's social media pages.
Laramie County School District 1 - Early Release
Due to agency closures, continued snow fall and unexpected increasing winds we are starting the process of early release for students. Buses will begin arriving at our high schools and junior high schools at 11:45 a.m. and elementary schools at 1 p.m. Parents can pick up students as available. Staff will be present at your school until all students are picked up. Lunch will be served as usual. We fully recognize that the weather has created challenging conditions and appreciate all of you that have called in. As we know Wyoming weather is incredibly unpredictable. Thank you for your grace.
Laramie County School District 1 - After-School Activities Canceled
At Laramie County School District 1, we recognize that our schools are a safe, warm space for many of our students. In addition, they depend on eating school meals. As such, our goal is to accommodate all families. As always, parents who do not feel comfortable sending their children to school during a weather event may keep them home and their absence will be excused.
Today, schools will remain open; however, we continue to monitor weather conditions. At any time, parents who wish may pick their students up from school early.
Due to the conditions, all after school activities previously scheduled for today are canceled.
LOOK: The most extreme temperatures in the history of every state
Stacker
consulted 2021 data from the
NOAA's State Climate Extremes Committee (SCEC)
to illustrate the hottest and coldest temperatures ever recorded in each state. Each slide also reveals the all-time highest 24-hour precipitation record and all-time highest 24-hour snowfall.
Keep reading to find out individual state records in alphabetical order.