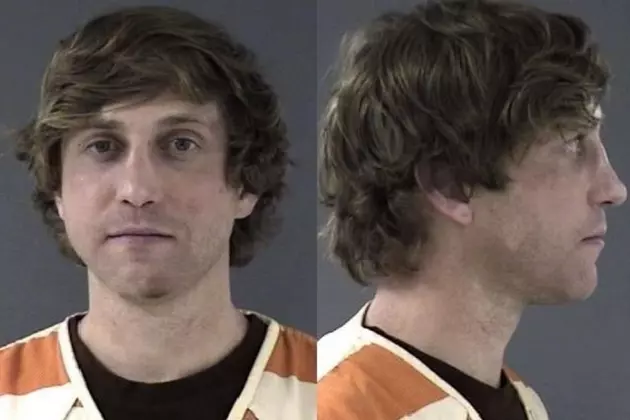 Cheyenne Police Chase Ends After Suspected DUI Driver Hits Deputy
Cheyenne Police Department
A suspected drunk driver was arrested early Saturday morning after reportedly hitting a Laramie County Sheriff's deputy following a high-speed chase through south Cheyenne.
According to a booking sheet, it all started at 2:13 a.m. when a police officer stopped 35-year-old Kent, Washington resident Evan Joseph Kearsley in the 1200 block of Ames Avenue for speeding and failing to maintain his lane.
The officer says Kearsley was slurring his speech, had bloodshot, watery eyes, and had a strong odor of alcohol on his breath.
Kearsley was instructed to remove his keys from the ignition, which he did, but when the officer went to walk back to his vehicle, Kearsley put the keys back in the ignition and took off southbound at a high rate of speed.
"Officers immediately pursued the vehicle, following south on Parsley Boulevard and then east on West College Drive," said police spokeswoman Alex Farkas.
"Kearsley proceeded to drive recklessly at times crossing into oncoming traffic and running red lights," she added.
Farkas says a Wyoming Highway Patrol trooper was able to spike Kearsley's tires, however, Kearsley continued to travel east at a high rate of speed.
"(Kearsley) then turned into the parking lot of Rossman Elementary School, struck a curb, and nearly collided with a police officer's patrol vehicle," said Farkas.
When Kearsley tried to exit the parking lot, he drove directly into a deputy, causing a large amount of damage to the deputy's vehicle.
After hitting the deputy, Kearsley continued to accelerate into the deputy's vehicle not attempting to take his foot off the gas.
"Officers ran to the driver's door, gained entry, and took Kearsley into custody," said Farkas. "No injuries were reported."
Kearsley was booked into Laramie County Detention Center for aggravated assault on a peace officer, interference with a peace officer, aggravated fleeing and eluding, and DUI.
He's scheduled to make his initial appearance in Laramie County Circuit Court tomorrow, Oct. 17, at 9:45 a.m.
A Dad's List Of Must-Have Winter Essentials You Need In Your Car
Gallery Credit: Brett Alan