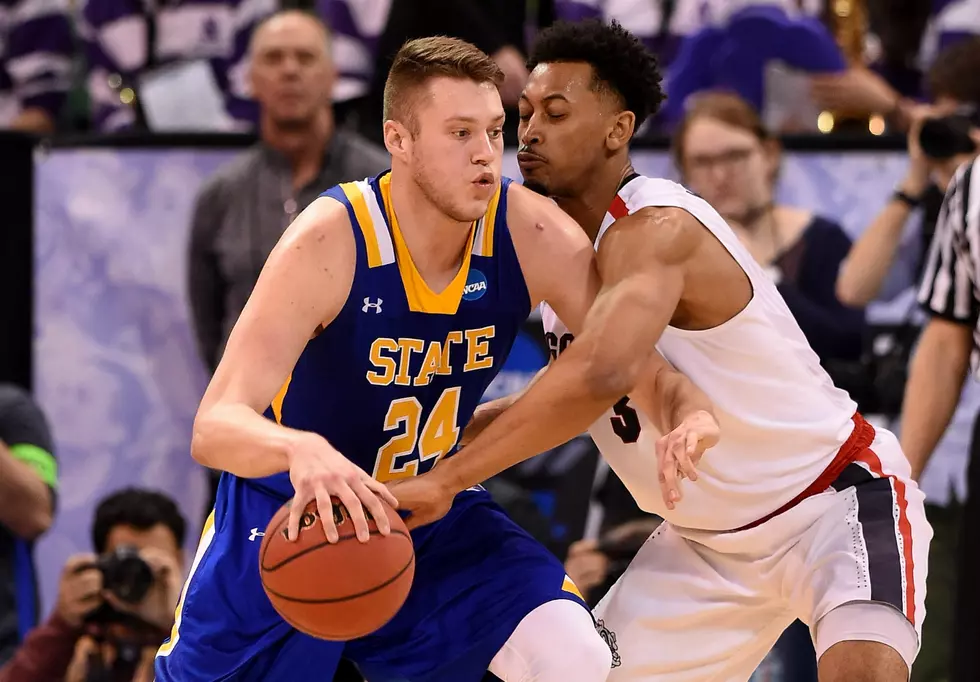 NBA Draft Prospect Mike Daum Has University Of Wyoming Roots
Gene Sweeney Jr., Getty Images
If Mike Daum gets selected in the NBA Draft next month, he will become the second professional athlete from the tiny town of Kimball, Nebraska. His dad was the first. Athletic ability runs in the family for Daum; both of his parents were athletes at the University of Wyoming.
Mitch Daum grew up on the family farm 15 miles east of the Wyoming border. Mitch and his brother Mark were star football players in high school. Mark went to Nebraska and played linebacker for the Cornhuskers. Mitch went to Wyoming and played tight end for the Cowboys alongside future NFL legend Jay Novacek.
At Wyoming, Mitch fell in love with Oregon native Michelle Hoppes. As good as Mitch and Mark were on the football field, Michelle was even better on the basketball court. In four seasons with the Cowgirls, she averaged nearly 17 points and over 10 rebounds per game, earning All-American honors as a senior. In 1996, she was inducted into the Wyoming Athletics Hall of Fame.
After college, Mitch scored an invite to Seattle Seahawks training camp and nearly made the team as an undrafted free agent. The next year, he tried out for the Houston Oilers and made the regular season roster in 1987. Unfortunately, he only played in two games before the player's union went on strike. Mitch would have been in the starting lineup for the Oilers if he had crossed the picket line. When the strike ended five weeks later, he was cut.
Mitch didn't know it at the time, but his professional sports dream wasn't over. He went back to the family farm in Kimball and reconnected with his college sweetheart Michelle. They eventually got married and had a son in 1995.
Mike Daum is now hailed as the "Larry Bird of Nebraska". The 6'9" farm kid with an unstoppable jump shot rewrote the record book at Kimball County High School, breaking several marks set by his dad, uncle, and cousin. He accepted a scholarship to South Dakota State, where he became one of the most prolific scorers in the history of college basketball and earned another nickname, "The Dauminator".
Daum ranks fifth on the all-time NCAA Division 1 scoring list with 3,067 career points. His 786 free throws are fourth on the all-time list and his 947 defensive rebounds are the third most in NCAA history. He is projected to be a second-round pick in the NBA Draft next month.