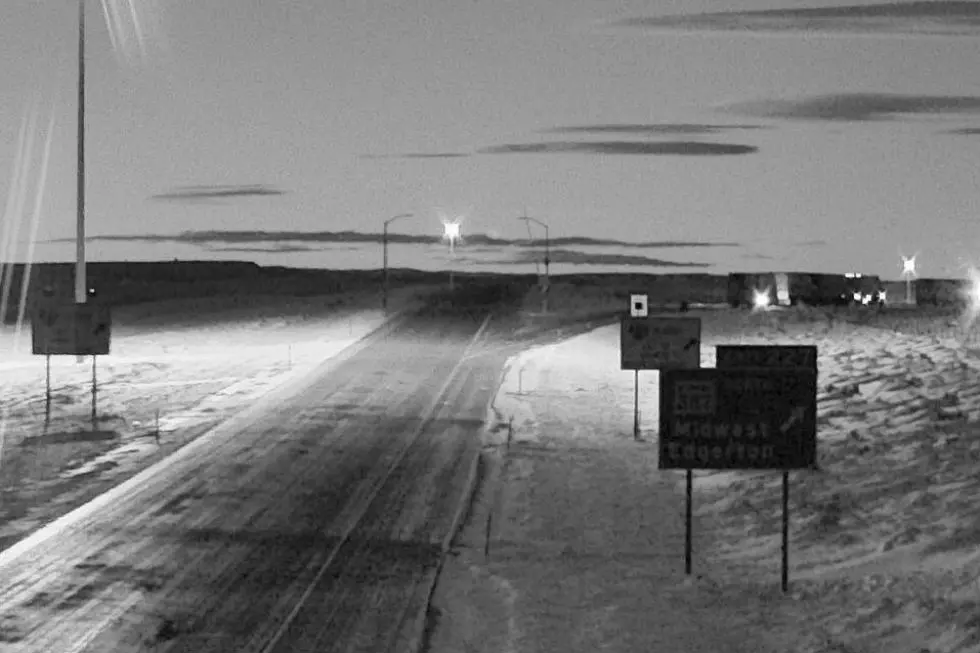 Much of I-25 in Wyoming Closed Again Due to Winter Weather [UPDATED]
WYDOT
UPDATE (7:33 a.m. Monday)
I-25 north of Casper reopened shortly before 7:30 a.m., but WYDOT has issued a 'no unnecessary travel' advisory for the Kaycee area. 
---
Large portions of Interstate 25 were closed again Monday morning due to winter weather and rolling closures.
I-25 was closed in both directions between Cheyenne and Wheatland, with an expectation for that stretch to reopen between 10:30 a.m. and 12:30 p.m. Monday.
From Wheatland to Exit 126 south of Douglas at US 18/20, the southbound lanes were closed due to "rolling closures." Those closures should be lifted between 10 a.m. and noon, WYDOT said Sunday night.
Here's WYDOT's definition of a rolling closure:
Ensuring roadway safety is WYDOT's top priority. The small towns along Interstate 80 have limited resources in terms of parking, fuel, hotel rooms and other amenities. When a town is at capacity, which can happen during a long-duration closure, the closure will be rolled back to the next town to avoid stranding travelers in a location without adequate services. The road may be open in the direction leading away from the affected area. WYDOT attempts to make accommodations for travelers who do not put a demand on an affected community's resources by issuing local traffic only restrictions and through the WYDOT Authorized Travel program.
Between Douglas and Casper, all lanes of I-25 were open. However, WYDOT advised the roadway was slick in spots with blowing snow, and black ice was present between Glenrock and Casper.
All lanes of I-25 remained closed between Casper and Kaycee, with an expectation that they could reopen between noon and 2 p.m. Monday. From Kaycee to Buffalo, the southbound lanes were closed with a similar estimated reopening time, while the northbound lanes were open, but in rough shape with blowing snow and black ice.
Also closed were WY 387 from Midwest to Pine Tree Junction and WY 192 from Kaycee to WY 387.
For the latest road conditions, visit WyoRoad.info, call 511 or download the Wyoming 511 app.
Enter your number to get our mobile branded app