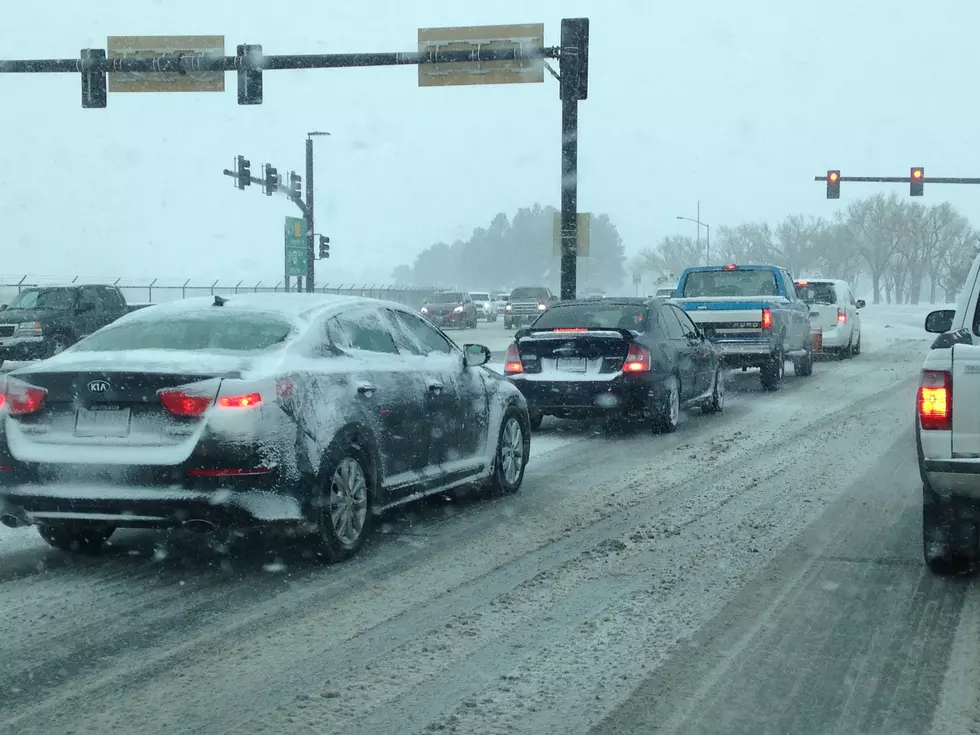 LIST: Cheyenne Area Weather-Related Closures & Advisories
Joy Greenwald, Townsquare Media
Winter conditions have forced the closure of hundreds of miles of interstate in southeast Wyoming, and many places around Cheyenne are starting to close up shop.
Below is a complete list of closures and advisories that have been sent to KGAB Radio:
Government Advisory Due to Inclement Weather
The Laramie County Commissioners and the Mayor of Cheyenne have implemented a LEVEL 3 Advisory for all employees residing in Area 3 starting at the time of this press release through Thursday evening.
Due to unsafe and deteriorating road conditions in Area 3, all City of Cheyenne and Laramie County non-essential employees living in the 3 East and West area should consider the impacts of traveling home today and reporting to work tomorrow due to unsafe road conditions. Employees not affected are expected to remain and report to work at their normal scheduled time. Employees wanting to return home today and not report to work tomorrow should notify their supervisor.
Laramie County School District #2 has implemented an early release as of 11:30 am today. LCSD #2 buses are dropping off school kids 4 hours earlier than normal. Please be aware of their presence and school kids unloading. No evening or activity routes will be offered for LCSD #2 tonight.
For a description of a Level 3 release visit www.laramiecounty.com/snowplan or www.cheyennecity.org.
---
Transfer Station Office to Close Due to Weather
The City's Solid Waste Transfer Station Office (220 N. College Dr.) will be closing due to severe weather at 2:00 p.m. today. The Transfer Station office will reopen Thursday, January 6th at 8:00 a.m.
For more information about the City's Transfer Station call 637-6440 or visit www.cheyennecity.org/sanitation. Download the Recycle Coach app on your device to receive notifications about any changes in the City's collection schedule.
---
Landfill and Municipal Court Closed Due to Weather
The City's Landfill (1461 Happy Jack Rd.) and Municipal Court Building (300 W. 17th St.) are closed due to severe weather and will reopen on Thursday, January 6th.
For more information about the City's Landfill visit www.cheyennecity.org/landfill. For more information about the City's Municipal Court visit www.cheyennecity.org/Court.
---
Transit Program to Close Due to Weather
The Cheyenne Transit Program (CTP) will be closing at 3:30 p.m. today due to weather. CTP is actively reaching out to individuals with trips scheduled later today.
For more information about CTP visit www.cheyennecity.org/transit.
---
Aquatic Center Closes Due to Weather
The Cheyenne Aquatic Center (931 Martin Esquibel St.) is closed due to weather and will reopen Thursday, January 6th.
For more information visit www.cheyenneaquatics.com.
---
LCSD1 Prepares for Possible Remote Learning
Due to inclement weather, all after-school activities including games and practices are canceled for today, Jan. 5.
In light of predicted heavy snow and inclement weather conditions, Laramie County School District 1 officials are making preparations.
If the weather prevents the entire district from opening for in-person learning, LCSD1 will be conducting virtual learning so that students will have access to their education.
Elementary students will be taking their charged iPads home this afternoon. Secondary students already have their devices in hand. In the event that the district is not open for in-person learning, lessons will be available.
The determination to open in-person or virtual will be made and communicated no later than 5:30 a.m. on Thursday, Jan. 6. If the district goes to virtual learning, all district activities will be canceled.
The district's Service Desk will be available via chat/screen share (preferred
option) https://remote.laramie1.org, via email servicedesk@laramie1.org or by calling 307-771-2242. Technical help resources are also available on the district website at this link: Technology Help.
---
Government Closure Due to Inclement Weather
The Laramie County Commissioners and the Mayor of Cheyenne have announced that the city complexes have been closed and county government complexes will be closed at 4pm for the remainder of the day due to the inclement weather.
---
City Offices Close for Weather, Work Session Rescheduled for Thursday
Due to inclement weather and poor road conditions, all non-emergency City offices will be closed for the remainder of Wednesday, January 5th.
Tonight's Goal Setting Work Session is postponed and has been rescheduled for tomorrow at 4:00 p.m. Zoom information and links for the rescheduled work session can still be found at www.cheyennecity.org/ecm. The City will also provide a Facebook live stream of the meeting.
---
LCCC Weather Closure on January 6
Due to weather conditions, LCCC will be closed on Thursday, January 6 and employees will be working remotely. This closure includes the Cheyenne and Albany County Campuses, and Pine Bluffs activities. All events are canceled.
For updated information, visit lccc.wy.edu or LCCC's social media pages. Information may also be available on local radio stations and news channels.
RELATED:
Pictures From Wyoming Snowpocalypse 2021
After two days and 30-odd inches of sow, southeast Wyoming was left buried. An in the grand tradition of every generation since the invention of the camera, we took pictures of the snow.
The Blizzard of March 2021 covered up our driveways, fences, and in some cases porches. It trapped up in our homes and canceled our plans.
Here's a quick look around the Cheyenne area from Sunday (March 14) and Monday (March 15).