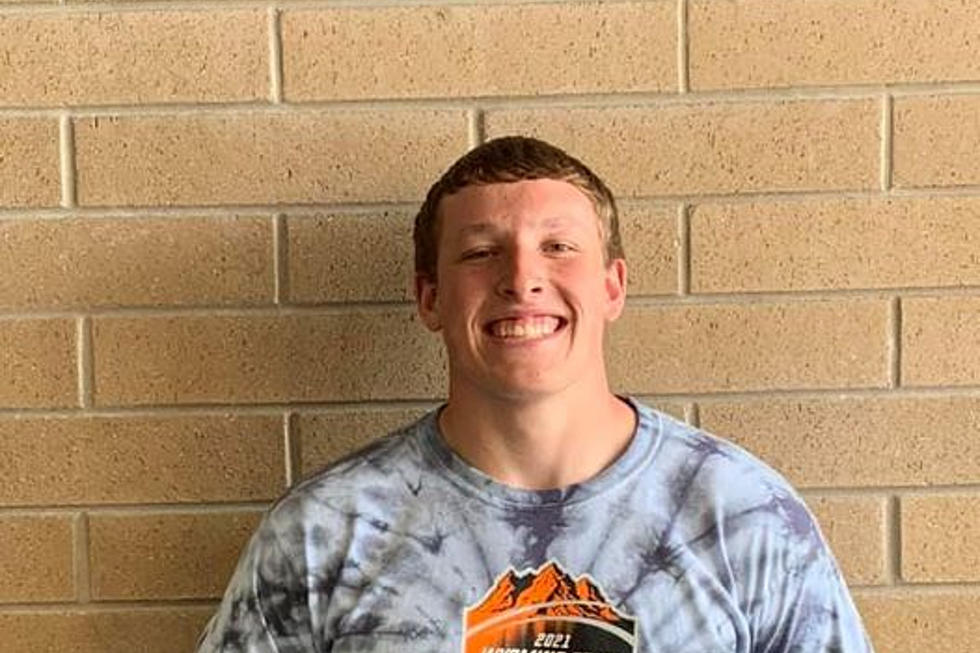 Joseph Turner from Lyman Wins Gatorade Wyoming Boys Track and Field Player of the Year Honor
Lyman H.S.
Lyman High School thrower Joseph Turner has been selected as the 2020-21 Gatorade Wyoming Boys Track and Field Player of the Year.
In its 36th year of honoring the nation's best high school athletes, The Gatorade Company announced this year's winner on Thursday. Turner is the first-ever to be chosen for the award from Lyman High School.
Turner swept the shot put (57-5.75) and discus (175-10) titles in Casper at the Class 3A state track championships in May. He helped his team to a fourth-place finish. A two-time state champion in the discus, Turner set a personal record with a toss of 182-5 in the 2021 outdoor season. It ranked No. 42 in the country among prep competitors in that event at the time of his selection. In the shot put, Turner put forth a career-best 61-2, which put him No. 38 in the nation.
Turner also helped the Lyman Eagles win the Class 2A state football championship last fall and was on the Lyman boys' basketball team that qualified for the Class 3A state tournament.
Turner was one of the five finalists for the prestigious Milward Simpson Award in 2021.
Lovell head coach Josh Sanders said of Turner,
"I had a chance to watch him in the last three meets of the year and I could see that he was peaking at the right time. He had a lot of confidence in his performance and ability. He was very explosive. He could spin quickly without sacrificing technique or losing control."
The 6-1, 230-pound senior had a 3.74 GPA in the classroom. He signed a National Letter of Intent earlier this year to throw at Utah State University on an athletic scholarship. Turner has volunteered locally as a youth basketball coach and as part of multiple community service initiatives through his church. He has also donated his time after school and on weekends to support and serve as a companion to a mentally challenged, wheelchair-bound student.
The award, which recognizes not only outstanding athletic excellence but also high standards of academic achievement and exemplary character demonstrated on and off the field, distinguishes Turner as Wyoming's best high school boys track & field athlete. He is now a finalist for the prestigious Gatorade National Boys Track and Field Player of the Year award to be announced later this month.
Turner joins recent Gatorade Wyoming Boys Track and Field Players of the Year Peter Visser (2019-20) and Wyatt Moore (2018-19) from Star Valley High School, Brodie Roden (2017-18) of Riverton High School, and Laramie High School's McCade Johnson (2016-17), among the state's list of former award winners.
Through Gatorade's cause marketing platform "Play it Forward," Turner has the opportunity to award a $1,000 grant to a local or national youth sports organization of their choosing. Turner is also eligible to submit a 30-second video explaining why the organization they chose is deserving of one of twelve $10,000 spotlight grants, which will be announced throughout the year. To date, Gatorade Player of the Year winners' grants has totaled more than $2.7 million across 1,117 organizations.
15 Questions You Should Never Ask Someone From Wyoming