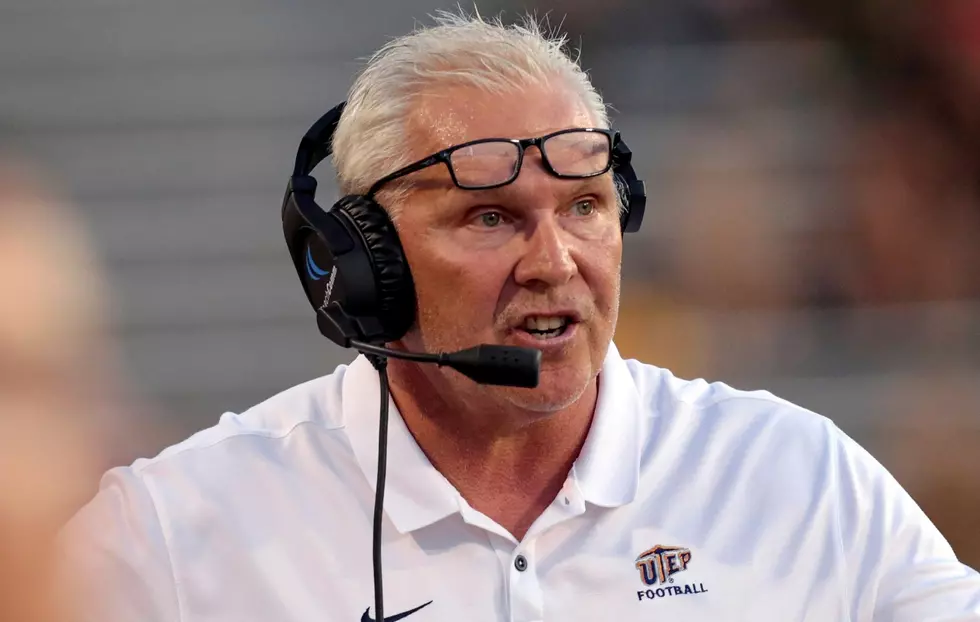 Group of Five Guys with Wyoming Football Ties
HATTIESBURG, MS - SEPTEMBER 28: UTEP Miners head coach Dana Dimel looks on during the Southern Miss Golden Eagles game versus the UTEP Miners on September 28, 2019, at Carlisle-Faulkner Field at M.M. Roberts Stadium in Hattiesburg, MS. (Photo by Bobby McDuffie/Icon Sportswire via Getty Images)
LARAMIE -- Plenty of familiar names with Wyoming ties litter the coaching ranks in the Group of Five conferences, including former head coaches Vic Koenning and Dana Dimel.
There are also a number of former UW players, who are now wearing headsets across the country.
Check out our compiled list right here:
MOUNTAIN WEST
* Adam Pilapil - Linebackers - Colorado State
Served as the defensive quality control coach at UW in 2019. Also played linebacker for the Cowboys from 2015-18 under Craig Bohl.
* Derek Sage - Offensive coordinator/ tight ends - Nevada
Served as the Cowboys wide receivers coach from 2010-2013 under Dave Christensen.
* Jalen Ortiz - Cornerbacks - Nevada
Served as a graduate assistant  and helped coach the UW defensive backs from 2018-19. Ortiz also played for Bohl from 2016-17 at linebacker and nickelback after transferring from UCLA.
AMERICAN ATHLETIC CONFERENCE
* DJ Eliot - Defensive coordinator - Temple
Served as a graduate assistant in 1999 under Dana Dimel. Also played for the Cowboys from 1995-98 under Dimel and Joe Tiller.
MID-AMERICAN CONFERENCE
* Kenni Burns - Head coach - Kent State
Served as UW's wide receivers coach and passing game coordinator in 2014 under Bohl.
* Jeremiah Johnson - Special teams coordinator/ safeties - Kent State
Served as a graduate assistant and video coordinator in Laramie during the 2002 season under Vic Koenning.
SUNBELT CONFERENCE
* Jovon Bouknight - Wide receivers/ pass-game coordinator - Marshall
Served as a graduate assistant in 2006 under Joe Glenn. Played wide receiver for the Cowboys from 2002-05.
* David Lockwood - Safeties - Appalachian State
Served as a defensive backs coach at UW from 1999-2000 under Dimel and Koenning.
* Vic Koenning - Defensive coordinator - Louisiana Monroe
Served as Wyoming's head coach from 2000-02. Also served as the Cowboys defensive coordinator under Dimel from 1997-99.
CONFERENCE USA
* Rick Mallory - Tight ends - Middle Tennessee
Served as director of football operations in Laramie during the 2010 season under Christensen.
* Dana Dimel - Head coach - UTEP
Served as the head coach in Laramie from 1997-99.
* Dave Warner - Offensive coordinator - UTEP
Served as the Pokes' passing-game coordinator at UW in 1998 under Dimel.
* Matt Wallerstedt - Associate HC/ Run-game coordinator/ Defensive line - UTEP
Spent six seasons on the high plains, serving as a defensive line and linebackers coach. From 2000-02 under Koenning, he moved into the defensive coordinator role.
* POWER-5 GUYS WITH WYOMING TIES
LOOK: Pokes' unis through the years
University of Wyoming's Top 50 Football Players
The rules are simple: What was the player's impact while in Laramie? That means NFL stats, draft status or any other accolade earned outside of UW is irrelevant when it comes to this list.
This isn't a one-man job. This task called for a panel of experts. Joining 7220's Cody Tucker are Robert Gagliardi, Jared Newland, Ryan Thorburn, and Kevin McKinney.
We all compiled our own list of 50 and let computer averages do the work. Think BCS -- only we hope this catalog is fairer.
Don't agree with a selection? Feel free to sound off on our Twitter:
@7220sports
- #Top50UWFB
- University of Wyoming's Top 50 Football Players