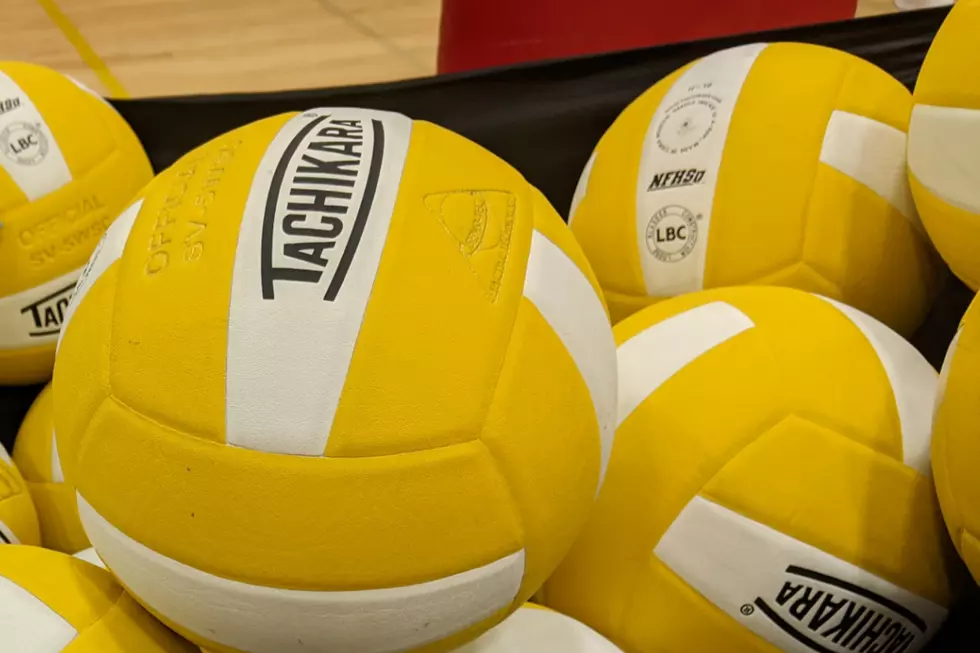 Wyoming High School Volleyball Week 4 Scoreboard: Sept. 14-18, 2021
David Settle, WyoPreps.com
Wyoming High School volleyball teams are into the fourth week of the 2021 season.
There are no tournaments this week. Teams are playing conference quadrant or cross quadrant matches.
WyoPreps has these matches for Week 4. All schedules are subject to change. For any updates, please reach out to david@wyopreps.com.
Tuesday, Sept. 14:
Class 4A
Riverton at Jackson - postponed to 10/5
Final Score: Evanston 3 Rock Springs 2 = 25-20, 25-20, 21-25, 24-26, 15-13
Class 1A
Final Score: Saratoga 3 H.E.M. 0 = 25-21, 25-21, 25-16
Out-of-State Opponent
Final Score: Sugar-Salem, ID 3 4A Star Valley 2 = 18-25, 25-20, 17-25, 25-22, 15-7
Non-Varsity Opponent
Final Score: Cheyenne East JV 3 1A #3 Southeast 2 = 19-25, 25-18, 22-25, 25-23, 15-13
Wednesday, Sept. 15:
Out-of-State Opponent
Final Score: 4A Jackson 3 Teton (Driggs, ID) 0 = 25-21, 25-10, 25-14
Thursday, Sept. 16:
Class 4A
Final Score: #1 Laramie 3 #3 Cheyenne East 0 = 25-13, 25-21, 27-25 (conference match)
Final Score: #2 Kelly Walsh 3 Campbell County 0 = 25-13, 25-12, 25-16 (conference match)
Final Score: Cheyenne South 3 Cheyenne Central 2 = 16-25, 21-25, 25-20, 25-23, 16-14 (conference match)
Class 3A
Final Score: #3 Lander 3 Powell 0 = 25-12, 25-19, 25-18 (conference match)
Final Score: Douglas 3 Thermopolis 2 = 23-25, 22-25, 25-21, 25-14, 15-9 (conference match)
Final Score: Worland 3 Lovell 2 = 16-25, 13-25, 25-17, 25-17, 15-11 (conference match)
Class 1A
Final Score: Meeteetse 3 Burlington 0 = 25-13, 25-15, 25-12 (conference match)
Final Score: Upton 3 Midwest 1 = 20-25, 25-12, 25-12, 25-11 (conference match)
Out-of-State Opponent
Final Score: Sioux County, NE 3 Lusk 1 = 25-15, 25-4, 20-25, 25-13
Final Score: 3A #2 Lyman 3 Intermountain Christian (Salt Lake City, UT) 0 = 25-21, 25-17, 25-15
1A #4 Southeast at Mitchell, NE - postponed to 9/21/21
Friday, Sept. 17:
Class 4A
Final Score: #5 Thunder Basin 3 Sheridan 0 = 25-15, 25-17, 25-21 (conference match)
Final Score: #1 Laramie 3 Cheyenne Central 0 = 25-15, 25-13, 25-17 (conference match)
Final Score: #3 Cheyenne East 3 Cheyenne South 0 = 25-8, 25-15, 25-14 (conference match)
Final Score: Star Valley 3 #4 Cody 1 = 25-23, 26-24, 23-25, 25-21
Final Score: Natrona County 3 Green River 0 = 25-23, 25-14, 25-16
Class 3A
Final Score: Wheatland 3 Torrington 1 = 25-16, 25-21, 16-25, 25-15 (conference match)
Final Score: #4 Buffalo at Douglas = 25-19, 25-20, 25-14  (conference match)
Final Score: Burns 3 Rawlins 0 = 26-24, 25-21, 25-18 (conference match)
Final Score: Newcastle 3 Thermopolis 0 = 25-19, 25-23, 25-19 (conference match)
Final Score: #1 Mountain View 3 #5 Pinedale 0 = 25-15, 25-10, 25-10 (conference match)
Final Score: #2 Lyman 3 Kemmerer 0 = 25-17, 25-13, 25-15 (conference match)
Class 2A
Final Score: #4 Big Horn 3 Wright 0 = 25-15, 25-21, 25-14 (conference match)
Final Score: #2 Sundance 3 #3 Moorcroft 2 = 25-23, 20-25, 25-14, 17-25, 15-8 (conference match)
Final Score: Greybull 3 Shoshoni 0 = 25-15, 26-24, 25-24 (conference match)
Final Score: Wyoming Indian 3 St. Stephens 0 = 25-17, 25-11, 25-14 (conference match)
Final Score: #1 Riverside 3 #5 Rocky Mountain 2 = 25-18 25-9, 21-25, 23-25, 15-13 (conference match)
Final Score: Big Piney 3 Wind River 2 = 24-26, 25-17, 18-25, 25-12, 25-13 (conference match)
Class 1A
Final Score: #1 Kaycee 3 Arvada-Clearmont 0 = 25-10, 25-6, 25-13 (conference match)
Final Score: #2 Little Snake River 3 H.E.M. 0 = 25-21, 25-9, 25-16
Encampment at Rock River - canceled
Interclass
Final Score: 2A Tongue River 3 1A Burlington 0 = 25-10, 25-14, 25-16
Final Score: 2A Glenrock 3 1A Lingle-Ft. Laramie 0 = 25-16, 25-23, 25-17
Out-of-State Opponent
Final Score: Sioux County, NE 3 1A Guernsey-Sunrise 0 = 25-6, 25-13, 25-7
Saturday, Sept. 18:
Class 4A
Final Score: #2 Kelly Walsh 3 #5 Thunder Basin 0 = 26-24, 25-14, 25-18 (conference match)
Final Score: #4 Cody 3 Jackson 1 = 16-25, 25-14, 25-12, 25-18
Final Score: Natrona County 3 Evanston 0 = 25-23, 25-20, 25-23
Final Score: Campbell County 3 Sheridan 0 = 25-21, 25-17, 25-17 (conference match)
Final Score: Star Valley 3 Riverton 0 = 25-11, 25-15, 25-10
Class 3A
Final Score: #1 Mountain View 3 Kemmerer 0 = 25-13, 25-15, 25-16 (conference match)
Final Score: #4 Buffalo 3 Newcastle 1 = 25-12, 25-12, 26-28, 25-10 (conference match)
Final Score: Torrington 3 Burns 2 = 26-24, 19-25, 25-12, 13-25, 15-9 (conference match)
Final Score: #2 Lyman 3 #5 Pinedale 0 = 25-12, 26-24, 25-18 (conference match)
Final Score: #3 Lander 3 Lovell 0 = 25-14, 25-8, 25-8 (conference match)
Final Score: Worland 3 Powell 0 = 25-21, 25-11, 25-22 (conference match)
Final Score: Wheatland 3 Rawlins 0 = 30-28, 25-19, 25-21 (conference match)
Class 2A
Final Score: #4 Big Horn 3 #3 Moorcroft 2 = 25-27, 25-18, 25-22, 21-25, 15-12 (conference match)
Final Score: #5 Rocky Mountain 3 Shoshoni 1 = 25-9, 22-25, 25-16, 25-22(conference match)
Final Score: Wyoming Indian 3 Wind River 2 = missing scores (conference match)
Final Score: #2 Sundance 3 Wright 0 = 25-11, 25-17, 25-21 (conference match)
Final Score: Glenrock 3 Pine Bluffs 2 = 25-16, 23-25, 25-19,25-27, 15-10 (conference match)
Class 1A
Final Score: #5 Farson-Eden 3 Encampment 2  = 22-25, 25-22, 25-18, 21-25, 15-8  (conference match)
Final Score: Midwest 3 Guernsey-Sunrise 0 = 25-8, 25-8, 25-11
H.E.M. at Rock River (conference match) - postponed; reschedule is TBD
Final Score: #3 Cokeville 3 #2 Little Snake River 0 = 25-18, 25-15, 25-11 (conference match)
Final Score: Upton 3 #1 Kaycee 2 = 25-20, 20-25, 25-22, 16-25, 15-11(conference match)
Final Score: Hulett 3 Arvada-Clearmont 0 = 25-17, 25-11, 25-19 (conference match)
Final Score: Meeteetse 3 Dubois 0 = 25-18, 25-6, 25-11 (conference match)
Final Score: Saratoga 3 #5 Farson-Eden 1 = 25-14, 20-25, 25-23, 30-28 (conference match)
Interclass
Final Score: 2A St. Stephens 3 1A Ten Sleep 1 = 25-22, 25-20, 19-25, 26-24
Final Score: 2A Tongue River 3 3A Thermopolis 2 = 25-11, 22-25, 24-26, 25-13, 15-12
Final Score: 1A #4 Southeast 3 2A Lusk 0 = 25-11, 25-11, 25-15
Code Of The West: Wyoming State Code of Ethics
"The Code of the West" was declared the official state code of Wyoming, and the act was signed into law on March 3rd, 2010. Wyoming is the first state to adopt a code of ethics. The legislation chose ten ethics derived from the book "Cowboy Ethics" by James P. Owen