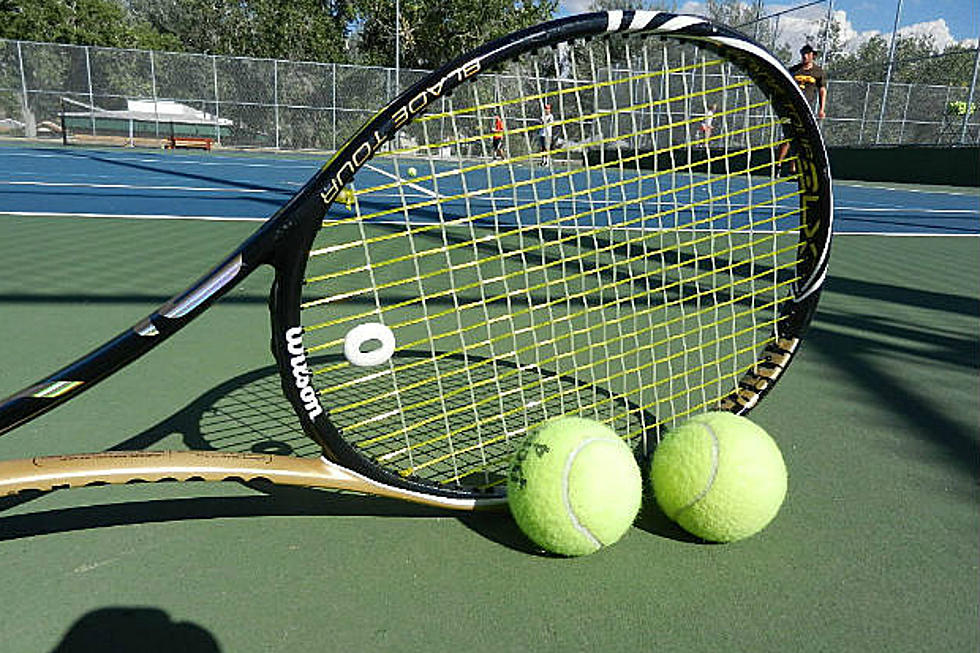 Wyoming High School Tennis Scoreboard: Aug. 14, 2021
Kevin Koile, WyoPreps.com
Tennis matches at the prep level in 2021 are finally here. The seven-week season starts on Saturday. 
These matches will all lead up to regionals at Cheyenne East in the south and Sheridan in the north, the weekend of Sept. 17 and 18. 
The state tournament will be in Gillette, Sept. 23-25 where the Cheyenne Central Girls and the Kelly Walsh Boys will try to defend their titles from last year.
Here's a look at the schedule for Saturday.  Schedules are subject to change.
Saturday, Aug. 14:
Girls: Jackson 3 Green River 2
1S: Gabrielle Heiser (GR) def. Anna Revill: 6-3, 7-5
2S: Megan Counts (GR) def. Christa Finlay: 6-4, 6-1
1D: Webb/Wiley (JK) def. Harrison/Strange: no scores
2D: Ross/Ferris (JK) def. Brown/Strauss: 6-4, 0-6, 6-0
3D: Stafford/Goldstein (JK) def. Travis/Schuh: 6-4, 6-0
Boys: Jackson 4 Green River 1
1S: Campbell Gervais (JK) def. Braxton Cordova: 6-2, 6-0
2S: Hayden Clark (JK) def. Korban Arriell: 6-2, 6-3
1D: Olson/Jost (JK) def. Friel/Findlowl: 6-2, 6-4
2D: Aepli/Wolf (JK) def. Tirrell/Wendel: 6-1, 6-2
3D: Arellano/Ross (GR) def. Webb/Stolte: 6-4, 6-3
Girls: Jackson 5 Rock Springs 0
1S: Anna Revill (JK) def. Isabella Rodriquez: 6-0, 6-2
2S: Christa Finlay (JK) def. Karlie Nandrup: 4-6, 6-0, 6-2
1D: Webb/Wylie (JK) def. Palinek/Bush: 6-1, 6-1
2D: Ferris/Ross (JK) def. Jones/Frazier: 6-1, 6-1
3D: Stafford/Goldstein (JK) def. Hollingshead/Hamblin: 6-3, 6-2
Boys: Jackson 5 Rock Springs 0
1S: Campbell Gervais (JK) def. Khristian Sanarez: 6-1, 6-1
2S: Hayden Clark (JK) def. Shiva Yeshlor: 6-0, 6-0
1D: Olson/Jost (JK) def. Smith/Conover: 6-0, 6-0
2D: Aepli/Wolf (JK) def. Schrag/Smith: 6-1, 6-2
3D: Webb/Stolte (JK) def. Davies/Atkinson: 6-2, 6-2
Girls: Campbell County 5 Torrington 0
1S: Alexa Richert (CC) def. Bethany Wunibald: 6-1, 6-0
2S: Abi Neary (CC) def. Jace Shields: 6-4, 6-2
1D: Bouzis/Edwards (CC) def. Watson/Watson: 6-2, 6-1
2D: Whitt/Miller (CC) def. Russel/Hurley: 6-3, 6-1
3D: Gray/Torres (CC) def. Judkins/Yeik: 6-0, 6-0
Boys: Campbell County 5 Torrington 0
1S: Marcus Sarvey (CC) def. Aidyn Saucedo: 7-6 (4), 3-6, 6-3
2S: Kyle Barton (CC) def. Isaac Bartlett: 2-6, 6-2, 6-2
1D: Fink/Kline (CC) def. Russell/Clayton: 6-1, 6-2
2D: Allison.Lemm (CC) def. A. Bartlett/Firminhac: 3-6, 6-1, 6-3
3D: Robertson/Hailcroft (CC) def. Asmus/Posten: 6-0, 6-0
Girls: Thunder Basin 5 Torrington 0
1S: Ali Morgan (TB) def. Bethany Wunibald: 7-5, 6-2
2S: Maggie Bruse (TB) def. Jace Shields: 6-3, 6-4
1D: Kendrick/Ketchum (TB) def. Watson/Watson: 6-2, 6-0
2D: Angelos/Reese (TB) def. Russel/Hurley: 6-0, 6-3
3D: K. Bruse/Tachick (TB) def. West/Judkins: 6-0, 4-0 (default)
Boys: Torrington 4 Thunder Basin 0
1S: Aidyn Saucedo (Torr) def. Luke Lass: 1-6, 6-1, 6-1
2S: Isaac Bartlett (Torr.) def. Connor Heib: 6-0, 6-4
1D: Russell/Clayton (Torr.) def. Klaassen/Gursuch: 4-7, 7-6, 6-4
2D: A. Bartlett/Firminhac (Torr.) def. Moore/A. Lass: 6-1, 6-3
3D: No match
Jamboree in Casper - Teams Participating: Kelly Wash, Natrona, Sheridan, and Rawlins
10 Reasons Why You're Lucky to Be Living in Wyoming
Here Are the Top 10 Reasons Why You're Lucky to Be Living in Wyoming
- 10 Reasons Why You're Lucky to Be Living in Wyoming