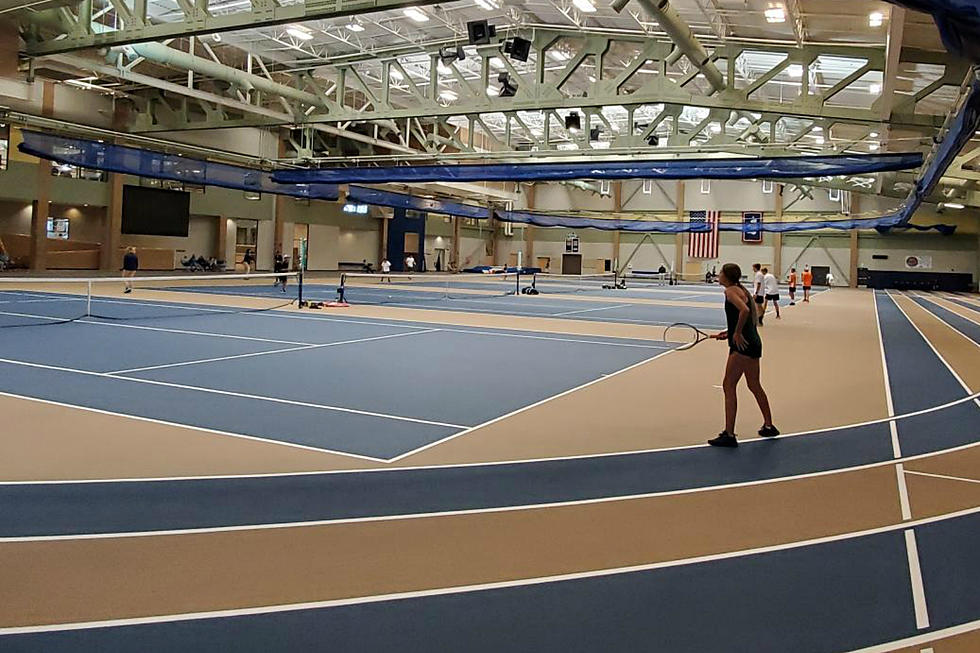 Cheyenne Central, Sheridan, and Powell Win State Tennis Titles
Frank Gambino, WyoPreps.com
The 2019 Wyoming High School State Tennis Championships finished on Saturday with a little bit of everything.
There was a first for one school. For a second straight year, there were co-champions. There was a three-time champ, repeat winners, and first-timers.
The Cheyenne Central and Sheridan girls shared the 2019 ladies team championship, as both squads scored 45 points over the three days of the state tournament. The girls' team race was very tight, as four teams were within five points of each other. Cody came in third place, just three points back. Kelly Walsh took fourth, only five points behind.
Central won one championship, had one runner-up, and a pair of third-place finishes. Sheridan won a title, had a third-place, and a fourth-place finish.
The Powell boys won the school's first-ever state tennis championship, and they did so in dominating fashion. The Panthers finished with 54 points and won by a margin of 22.5 over runner-up Gillette. Kelly Walsh and Cheyenne South tied for third place.
Individually, one of the highlights was a third consecutive state championship for Cheyenne South boys' No. 1 singles player Brendan Lock. He defeated Kyle Moore of Laramie, 6-0 and 6-0, in the title match.
Repeat winners included the Cody duo of Maddy Icenogle and Simona Wambeke at girls' No. 1 doubles. Their second straight state championship was a hard-fought three-set match, but they prevailed over Foster and Anderson of Cheyenne Central by scores of 6-0, 4-6, and 6-3.
Another repeat winner was Powell's Dylan Preator. He defended his crown at No. 2 singles with a 6-0, 3-6, and 6-4 victory over Tanner Lemm of Gillette.
A second title at a different spot in the lineup came about for girls' No. 1 singles player Emily Needham from Cheyenne Central. After winning it all at No. 2 singles in 2018, Needham defeated Finley Klinger of Kelly Walsh by scores of 6-2 and 6-3 to take the top spot at the highest position this year.
The same occurred for Gillette duo Jefferson Neary and Austin Robertson. They won the title at No. 2 doubles last year. Neary and Robertson prevailed 6-2, 4-6, and 6-1 over a team from Powell. The juniors will have a chance at a third title next year.
Other highlights included a sweep of all three doubles positions by the Cody Fillies. Besides Icenogle and Wambeke, the tandem of Ashlynn Staggs and Anna Brenner won the No. 2 doubles title, 6-3 and 6-2, over a team from Sheridan. At No. 3 doubles, the duo of Soffy Anderson and Natty Morales defeated a team from Kelly Walsh, 6-3 and 6-1. It was the first championship for both the 2 and 3 doubles teams from Cody.
First-time winners featured Sheridan junior Ella Laird at No. 2 singles. She beat Lily Putnam of KW, 6-2 and 6-4. The boys' duo of Parker Phillips and Colton Allaire won the crown at No. 2 doubles with a 6-3 and 7-6 win over a tandem from Powell. The final first-time winners were from Powell in the No. 3 doubles team of Logan Brown and Jay Cox. They won their match 6-1 and 6-4 over a team from Jackson.