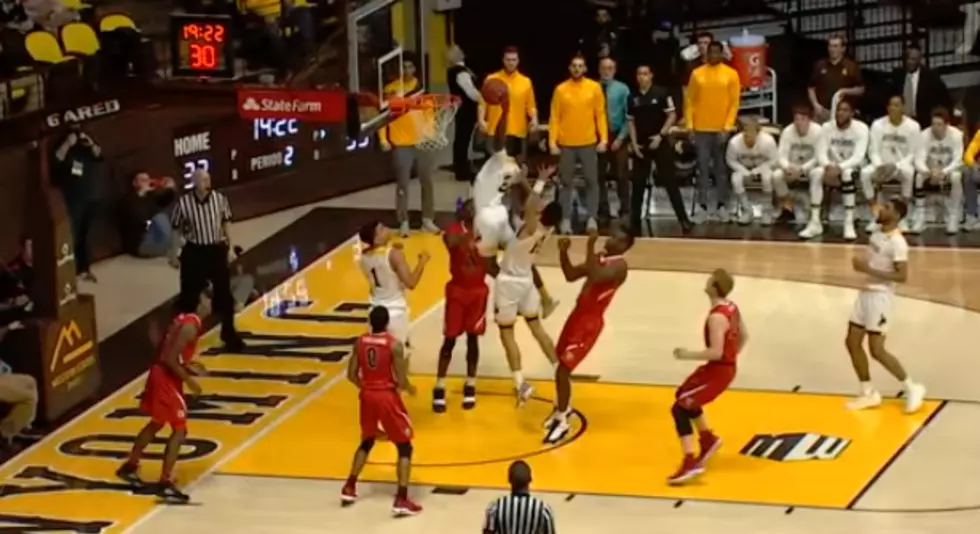 Wyoming Guard A.J. Banks Makes SportsCenter Top 10 Plays [VIDEO]
WYO-Vision, YouTube
Wyoming basketball fans haven't had a lot to cheer about this season. Last night, the Pokes made the highlight reel when Cowboys guard A.J. Banks delivered the Dome of Doom's dunk of the year with a one-handed, put-back jam that ranked #7 in the ESPN SportsCenter Top 10 plays.
The sequence began early in the second half when Wyoming defender Trace Young emphatically rejected Fresno State forward Sam Bittner. After the ball caromed off the backboard, Justin James led a one-on-three fast break and missed a layup. The 6'2" Banks then followed the shot with a high-flying, left-handed slam that brought the crowd to their feet. (The highlight begins at 2:37 in WYO-Vision's recap)
Unfortunately for the Pokes, that wasn't the only play from last night's game that made the SportsCenter Top 10 list. Fresno State guard New Williams finished fifth with a rim-rocking windmill dunk late in the first half. Williams led the Bulldogs with 24 points, who coasted to a  75-62 win.
The loss dropped Wyoming's record to 5-16 on the season, 1-7 in the Mountain West Conference.