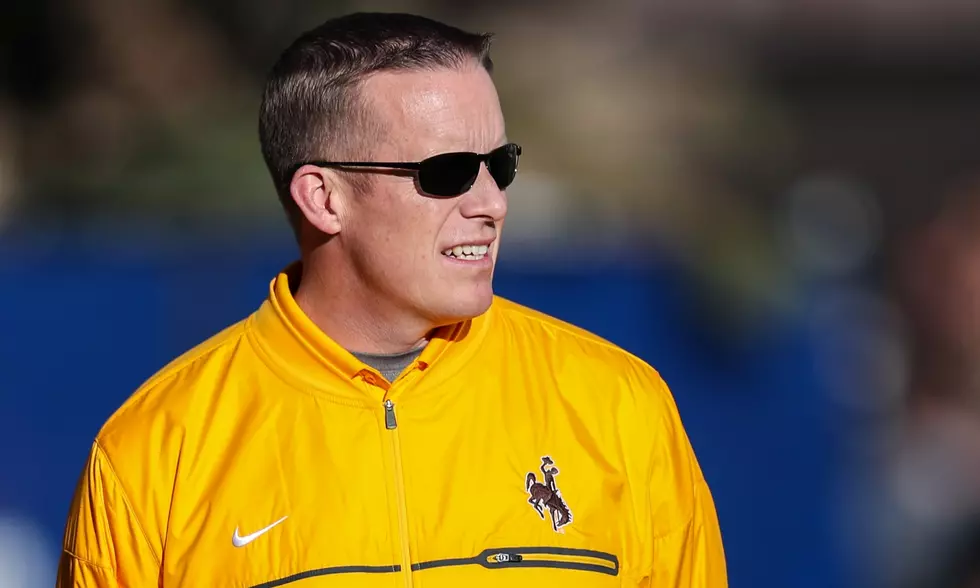 What did Brent Vigen learn from Craig Bohl? Believe
Craig Bohl and Brent Vigen (pictured) have coached together for the past 18 seasons. Saturday, for the first time, they will be on opposite sidelines./ UW courtesy photo
LARAMIE -- Brent Vigen wants his new team to truly believe they can walk out of War Memorial Stadium with a victory.
He learned that from the guy who will be on the opposite sideline Saturday afternoon.
"A prepared team is the best one that has a chance to win," Montana State's first-year head coach told the media Wednesday. "The best one has a chance to be in a game in the fourth quarter.
"... I think every Saturday we showed up with a team that believed and that's our charge this week is to get the Bobcats to believe we can go down there and not only be in the game, but win the game."
Sound familiar? It should.
Vigen was on Craig Bohl's Wyoming staff, serving as the offensive coordinator and quarterbacks coach for the previous seven seasons. The 11 before that were spent together in Fargo where Bohl and Vigen led North Dakota State to three consecutive championships from 2011-13.
There have been the star players -- Josh Allen, Carson Wentz and Brian Hill, just to name a few.
There was an unexpected run to the 2016 Mountain West Championship game.
This duo helped lift the Cowboys to three bowl games, including two victories over Central Michigan and Georgia State.
Like Bohl, Vigen knows the storylines will focus around the relationship these two share. Also like his mentor, Montana State's head man wants the spotlight to land squarely on the players.
"Well, it's unique for me," Vigen said about facing his former boss. "In my career, we've played against some people that I've coached with -- or some of those ideas of maybe overlap from time to time -- but as far as this situation, it is extremely unique."
MORE UW FOOTBALL NEWS:
* Pokes' staff sees bright future ahead for DeVonne Harris
* Wyoming's fast, young linebacking corps coming of age
* PODCAST: QB 101 with Ryan Clement
* Pokes news & notes
Vigen knows the Wyoming staff will be plenty familiar with what he likes to do schematically. The same can be said for MSU. Vigen told the media Wednesday that he has shared all his knowledge of the Cowboys' roster with his team, breaking down strengths and weaknesses.
He talked about being impressed with the growth of Sean Chambers, Xazavian Valladay and Chad Muma. He knows the home team has plenty of depth, too. He has even let his guys in on a little secret -- War Memorial Stadium is about as good as it gets on the college football landscape, especially with a possible sellout expected.
"I think it'll be a tremendous atmosphere," Vigen said. "You know, last year was partial fans for the two home games that were played there. So, it's been a long time for the majority of fans in Wyoming. You know, these early September games were always tremendous crowds. I suspect that'll be the case. It can be a it can be a really energized environment."
The ties in this game run even deep that the two head coaches.
MSU's offensive coordinator, Taylor Housewright -- who will be calling plays Saturday for the first time in his young career -- was an offensive graduate assistant in Laramie in 2018. The Bobcats defensive coordinator is also making his play-calling debut. Freddie Banks played for Bohl at NDSU from 2008-10. Banks also coached UW linebackers' coach Aaron Bohl at Minnesota State Moorehead.
MSU's defensive line coach once lined up on the Cowboys' defense. Adam Pilapil played at UW from 2015-18.
Current members of Wyoming's staff -- Tim Polasek, Mike Grant, Gordie Haug and Shannon Moore -- have all shared offensive meeting rooms with Vigen.
Craig Bohl became emotional last week when asked about what that pregame handshake will be like with his old friend.
"That's hard to describe," he said quietly. "It's special."
Vigen joked that he has walked by the visiting locker room in Laramie many times, but he's only been in there once. That was in September of 2008. The Cowboys bested Bohl, Vigen and the Bison 16-13 that sunny afternoon.
Bohl likes to celebrate the game of football these days.
The COVID-19 pandemic has put some things in perspective.
That's even more true for the guys from Bozeman. While Vigen appreciates the rarity of the situation -- saying that the two coaches will talk about each other this week more than they actually talk these days -- his focus is on his team and preparing the Bobcats for their first game in more than 620 days.
"It's more (about) Montana State right now," he said. "It's about putting our team out there and giving ourselves the best chance and not worrying and recollecting and all that kind of stuff."
Kickoff is scheduled for 2 p.m. inside War Memorial Stadium in Laramie.
LOOK: Pokes' unis through the years