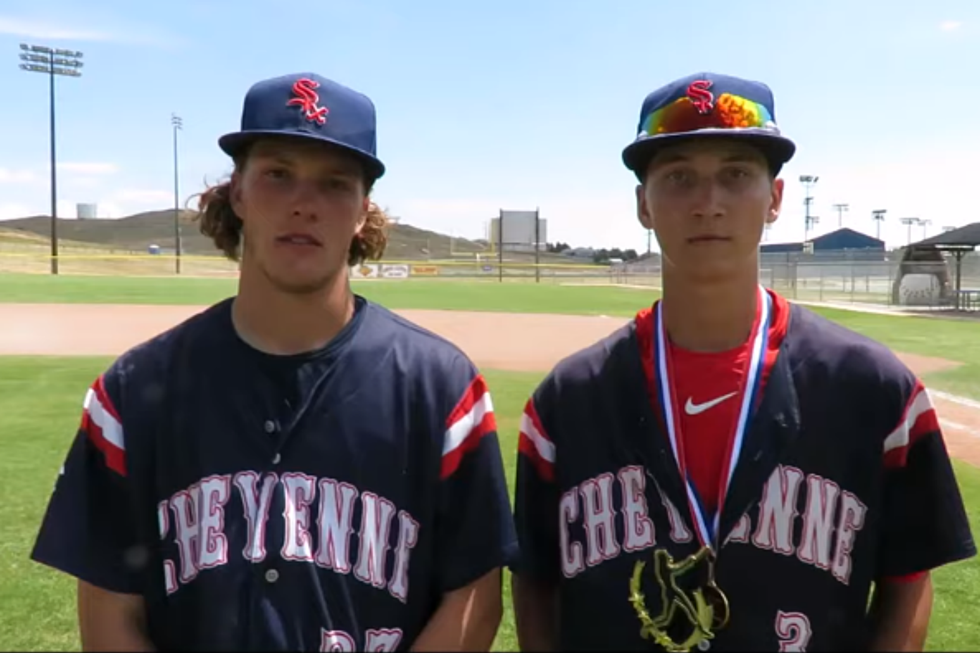 Watch Cheyenne React To Winning The Class 'A' State Championship
David Settle, WyoPreps.com
The Cheyenne Hawks rallied to win this year's Wyoming American Legion Baseball Class 'A' State Championship last Saturday in Douglas.
Pitcher Ty Lobmeyer was named the State Tournament MVP. Lobmeyer threw a complete game in the championship against the Douglas Cats, after he won Cheyenne's first game of the tournament versus Powell.
Lobmeyer went 2-0 with a 1.27 Earned Run Average. He gave up just six runs, two earned, on 11 total hits in the two games. Lobmeyer walked only two and finished with 11 strikeouts over 11 innings pitched.
The big hitter was Tyler Schlagel. He had the game-tying three-run home run against Douglas in the championship game. For the tournament, Schlagel was 7-15 at the plate for a .467 hitting average. Four of his hits were extra-base hits, and he finished with 8 RBI's. Schlagel drew a pair of walks, was hit by a pitch and didn't strikeout.
Lobmeyer and Schlagel visited with WyoPreps' David Settle about MVP honors, pitching, the big home run, and more after Cheyenne's win over the Cats in the title game.
Manager Brian Lopez Jr. guided the Hawks to their first state crown since 2016. He's a former Post 6 player and is in his first year as the team's manager. He spoke with WyoPreps' David Settle. They discussed the title, the big home run, going undefeated in the tournament, Lobmeyer's pitching, and getting ready for the regional tournament.
The Cheyenne Hawks will join the host Cody Cubs representing the state of Wyoming at the 2019 'A' Northwest Regional Tournament. The tournament is Aug. 9-13 in Cody, WY. Cheyenne will play the state champs from Utah at 10 a.m. Friday, Aug. 9.