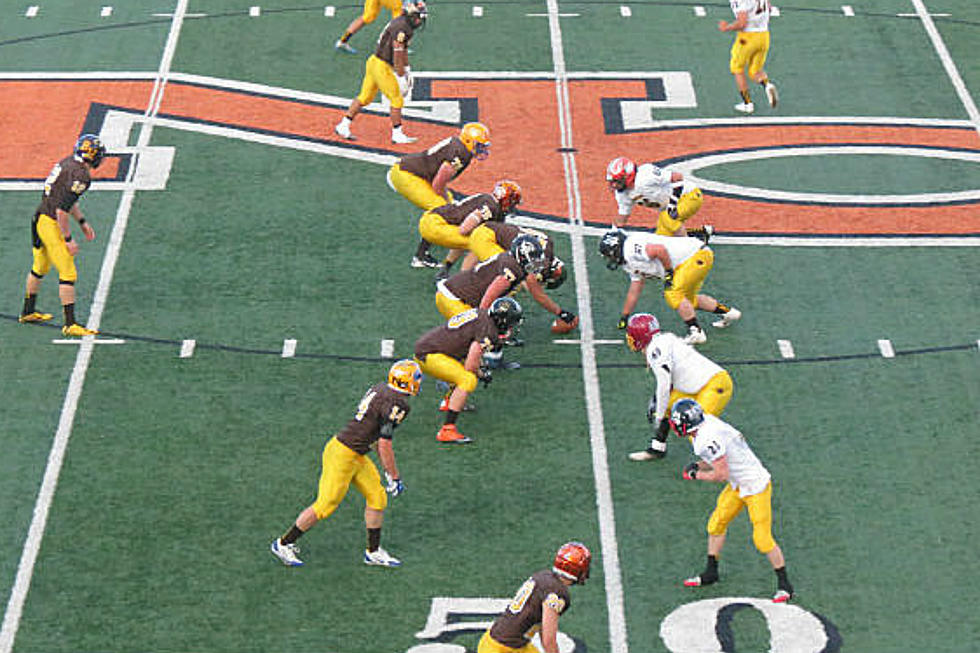 The Wyoming Shrine Bowl All-Star Football Game is Saturday in Casper
Kevin Koile, WyoPreps.com
The 48th annual Wyoming Shrine Bowl All-Star football game will pit the North against the South on Saturday in Casper.
The North enters this year's meeting on a seven-game winning streak. The last South win was in 2012, 56-33. That happens to be the most points scored by one team and the most combined points (89) in the history of this series.
In the all-time series, the North has 25 wins compared to the South with 18 victories. There have been three ties, in 1977, 1992, and 2009, when the game was cut short due to severe weather. The current seven-game win streak by the North is also the longest in the series.
You can watch and listen to the 48th annual Wyoming Shrine Bowl from Mylocalradio.com. The kick-off is at 2 p.m. from Cheney Alumni Field at Natrona County High School.
There have been two changes since the rosters were released on Feb. 3, 2021. Esaias Spillane from Kelly Walsh replaced Worland's Rudy Sanford, and Brady Storebo from Cheyenne Central replaced his former teammate Andrew Johnson. Sanford opted to play in the Wyoming-Montana All-Star basketball series, while Johnson has already reported to Laramie for offseason workouts with the Wyoming Cowboys.
The North Team head coach is Matt McFadden from Cody. His roster has the following players:
Winfield Loomis – Big Horn; Hyrum Hatch – Buffalo; Kaden Race – Campbell County; Cody Phillips, Caleb Pryor, Keaton Stone, Nic Talich – Cody; Sam Lopeman – Jackson; Dom Jahr, Esaias Spillane, Reno Watson – Kelly Walsh; Eli Mazurie, Jack Sweeney – Lander; CJ Lindsay – Lovell; Hadley Abarr – Meeteetse; Braxton Bundy, Brady Dutcher, Jace George – Natrona County; Kadden Abraham, Riley Bennett, Jesse Trotter – Powell; Damon DeVries – Riverton; Tyler Banks – Rocky Mountain; Quinton Mangus, Kyle Meinecke, Justin Vela – Sheridan; Tryston Truempler – Shoshoni; Logan Cole, Remington Ferree – Thermopolis; River Brisko, Michael Coleman, Scott O'Dell, Jaxon Pikula, Dyse Shepherd – Thunder Basin; Wyatt Gillespie, Brad Krueger – Upton-Sundance.
The South Team is led by head coach Brent Walk of Mountain View. The roster has these players:
Kaden Raza – Big Piney; Carter Lobatos, Jimmy Koenig, Joey Kostelecky, Brady Storebo – Cheyenne Central; Graedyn Buell, Jackson Hesford, Jake Rayl, Julian Vigil, Dakota Heckman – Cheyenne East; Nate Barnes – Cokeville; Kody Micke, Gabe Borman – Douglas; Jagger Mitchell – Evanston; Parker Clawson – Farson-Eden; Seth White -- Green River; Mathew Maiava, Micah Maiava, Michael Maiava – Laramie; Drake Lamp – Lusk; Hansen Bradshaw, Preston Brewer, Joseph Turner – Lyman; Hunter Meeks, Ashton Schofield – Mountain View; Colby White – Pinedale; AJ Kelly, Collin Madsen – Rock Springs; Noah Rimmer – Saratoga; Harrison Hall – Southeast; Brant Nelson, Gabe Nield, JaAren Smith – Star Valley; Dylan Dreiling, Cody Pierce – Torrington; Adam Suko – Wheatland
The game officials for the 48th annual Wyoming Shrine Bowl are Sean Geer, Ron Erickson, James Bratton, Evan Helenbolt, Dan Edwards, Monty Gilbreath, Nate Hellbaum, and Kurt Engle.
This game is for graduated seniors only.
LOOK: The most expensive weather and climate disasters in recent decades
Stacker
ranked the most expensive climate disasters by the billions since 1980 by the total cost of all damages, adjusted for inflation, based on
2021 data from the National Oceanic and Atmospheric Administration (NOAA)
. The list starts with Hurricane Sally, which caused $7.3 billion in damages in 2020, and ends with a devastating 2005 hurricane that caused $170 billion in damage and killed at least 1,833 people. Keep reading to discover the 50 of the most expensive climate disasters in recent decades in the U.S.