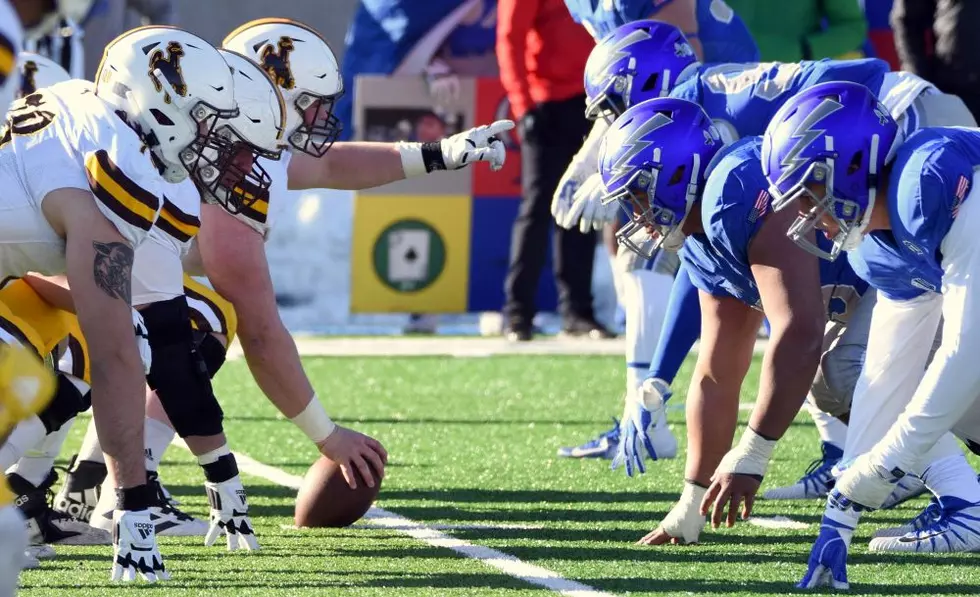 Pokes, Falcons don't just duke it out on the field
Wyoming and Air Force don't just battle it out on the gridiron, the two Front Range rivals also get after it on the recruiting trail./ DJ Johnson photo
LARAMIE -- Craig Bohl is looking for tough players and disciplined athletes who care about life after football.
So is Air Force.
It shouldn't be a surprise that these two Front Range rivals are often involved in off-field battles we rarely hear about. That happens -- more often than one might think -- on the recruiting trail.
"I think just some of the nature of what coach (Troy) Calhoun looks for in a football player is what we look for in a football player," Wyoming's eighth-year head coach said. "I think there are some similarities, obviously. You're looking at guys that are going to achieve academically, which we do as well. We're looking for tough, gritty guys.
"That also sounds like Air Force's guys as well."
A quick browse of the current roster shows that at least 13 Cowboys were once on Calhoun's radar.
That includes some players who have seen plenty of action already in a Wyoming uniform: Latrell Bible, Braden Smith, Alex Brown, Zach Watts and Gavin Meyer, among others.
True freshmen like Cheyenne's Andrew Johnson, Jaylen Sargent, Jordon Vaughn, Caden Barnett, and others, were also courted by the Falcons' coaching staff. Even a pair of UW verbal commits to the 2022 class -- Koa McIntyre and Luke Roaten -- received offers from the academy.
MORE UW FOOTBALL NEWS:
* Chambers nominated for Comeback Player of the Year Award
* Cowboys in the NFL: Week 4
* Wyoming's Victor Jones embracing second chance
* Pokes news and notes
It's not just the Falcons that Bohl and staff are competing against, either. You can also add in the other service academies, Army and Navy.
If you are wondering how legit the education portion is, Wyoming's roster is littered with players who received interest from IVY League schools like Darmouth, Brown, Harvard and others.
"There's a lot of guys that have gone both ways," Bohl added. "There's a lot of crossovers that we have."
Air Force's roster doesn't reveal what other institutions were interested in their current players.
Other Wyoming players with Air Force offers/ interest are: Alphonzo Andrews Jr., Isaac White, Brent VanderVeen and Jack Lookabaugh.
University of Wyoming's Top 50 Football Players
The rules are simple: What was the player's impact while in Laramie? That means NFL stats, draft status or any other accolade earned outside of UW is irrelevant when it comes to this list.
This isn't a one-man job. This task called for a panel of experts. Joining 7220's Cody Tucker are Robert Gagliardi, Jared Newland, Ryan Thorburn, and Kevin McKinney.
We all compiled our own list of 50 and let computer averages do the work. Think BCS -- only we hope this catalog is fairer.
Don't agree with a selection? Feel free to sound off on our Twitter:
@7220sports
- #Top50UWFB
- University of Wyoming's Top 50 Football Players