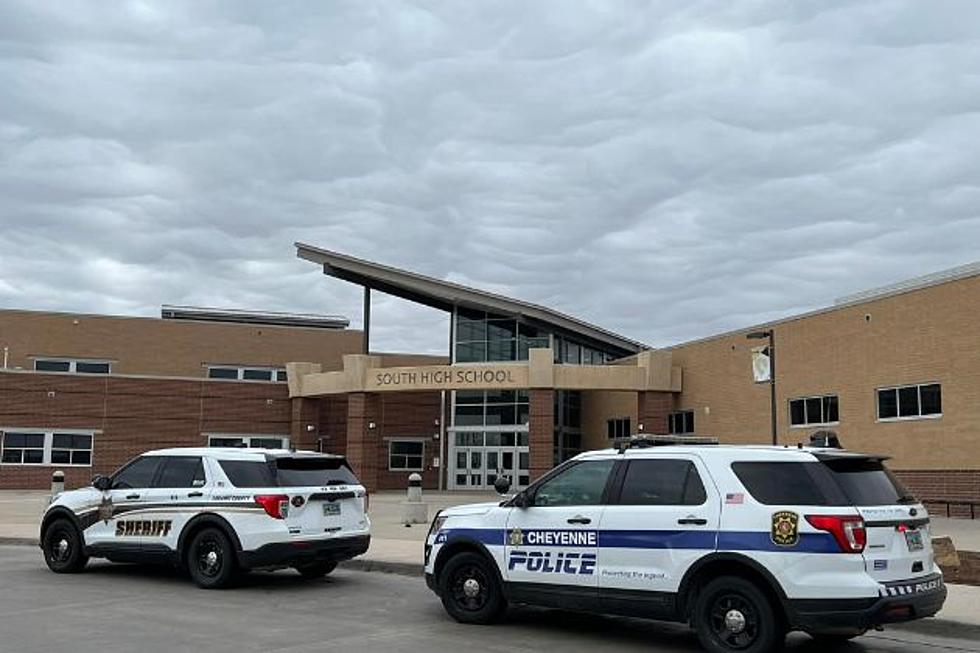 Lockdown In LCSD#1 South Triad Lifted After False Threat
Canva/Cheyenne Police Department
Laramie County School District#1 has lifted a lockdown of schools in the south triad after an apparently false shooting threat against South High School was received this morning.
According to the district in addition to South High School, lockdowns or secure perimeter procedures were implemented at Goins and Rossman Elementary schools and Johnson Jr. High as well as Triumph School at around 8:10 a.m..
The restrictions were lifted at around 9;05 a.m., according to district spokeswoman Mary Quast.
Cheyenne Police say they cleared South High around 9 a.m. after the threat was determined to be false.
That's according to a post on the the Cheyenne Police Department Facebook page. There were no confirmed reports of any injuries, according to the post. Police spokeswoman Alex Farkas told Townsquare Media at around 9 a.m. that the call was an apparent "prank' and that other schools in Wyoming had also been threatened. The Facebook post says the call threatening South High School originated from an area code outside of Wyoming. But Cheyenne Police say they will continue an increased police presence at local schools, just to be safe.
Meanwhile, Laramie County School District#1 released a letter from Superintendent Dr. Margaret Crespo on the incident which included the following comments:
As we close out the recent law enforcement activity in the South Triad, I want to take a moment to let you know I have been closely following the local, regional, state, and national trends we are seeing related to school safety, including concerning behaviors in our local community, swatting incidents around Colorado and now Wyoming. During these events false calls are made to emergency services, sometimes from overseas, regarding active school threats and critical incidents.  
Meet the Four-Legged Heroes of the Cheyenne Police Department
They may not be able to leap tall buildings in a single bound, but make no bones about it, police dogs play a vital role in the fight against crime.
In many situations, they're the first ones to put their lives on the line to protect their human partners, proving that not all heroes wear capes, some wear fur coats.