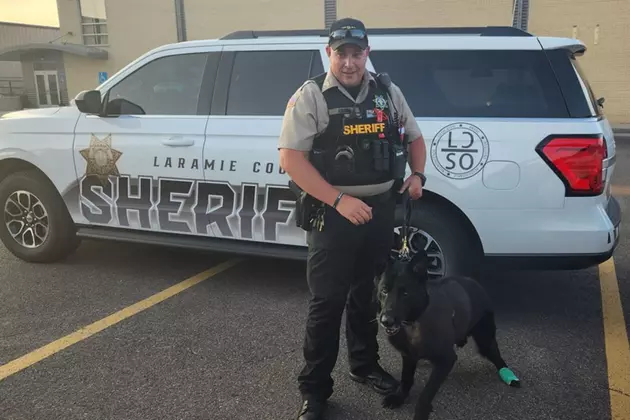 LCSO K-9 to Continue Working Despite Metastatic Cancer Diagnosis
Laramie County Sheriff's Office via Facebook
A K-9 officer with the Laramie County Sheriff's Office isn't letting cancer stop him from taking a bite out of crime.
The department in a Facebook post Monday evening shared the sad news that Arie's cancer has metastasized, despite a mass being successfully removed from his leg.
"Sgt. Grimm and Arie would like to thank everyone who donated and prayed to help with Arie's cancer treatment," the post reads.
While the diagnosis isn't what anyone had hoped for, Arie isn't letting it keep him from doing what he loves -- working with Grimm.
"Arie is most happy working and will continue to find dope and fugitives while he is able to," the post reads.
Below are just a few stories we've written about Arie's outstanding work.
Meet the Four-Legged Heroes of the Cheyenne Police Department
They may not be able to leap tall buildings in a single bound, but make no bones about it, police dogs play a vital role in the fight against crime.
In many situations, they're the first ones to put their lives on the line to protect their human partners, proving that not all heroes wear capes, some wear fur coats.