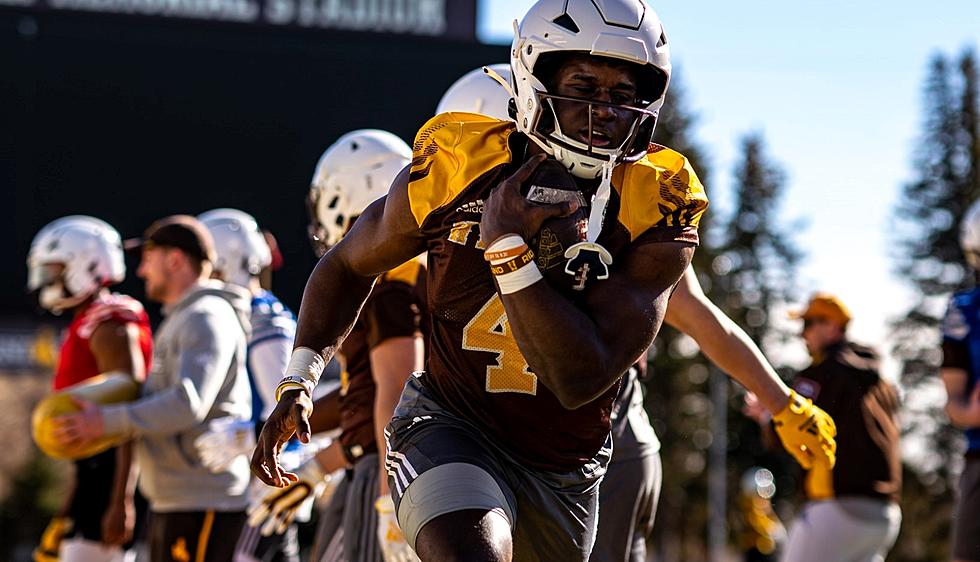 Harrison Waylee to Miss 'First Couple Games' Due to Injury
Harrison Waylee and the Cowboys began their final week of practice Tuesday, leading up to this Saturday's spring game inside War Memorial Stadium./ UW courtesy photo
LAS VEGAS -- Wyoming's newest running back won't be on the field when the Cowboys host Texas Tech in the season opener.
"He had some knee reconstruction, but we'll get him back," Craig Bohl said about Harrison Waylee Thursday at Mountain West Media Days in Las Vegas. The Northern Illinois transfer will miss the "first couple games" while he recovers, Wyoming's head coach added.
Waylee rolled up nearly 2,000 yards on the ground during his three seasons in DeKalb, including a career-best 899 last fall. The Johnston, Iowa product also found the end zone 11 times during his time stint in the Huskies' backfield.
Wyoming got an up-close-and-personal look at Waylee in September of 2021. The then-freshman gashed the Cowboys to the tune of 179 rushing yards and a pair of scores in a wild 50-43 road victory for Bohl's bunch. A week prior, Waylee rushed for 144 yards and a touchdown in a road upset at Georgia Tech.
"He has been a great addition," Bohl said.
MORE UW FOOTBALL NEWS VIA 7220SPORTS:
* Wyoming releases first depth chart of 2023 season
* Can any jobs be won or lost this fall?
* Easton Gibbs: 'This will be it for me'
* Is Andrew Peasley feeling the pressure? Not exactly
* Tucker: How I voted in the MW preseason football poll
* Wyoming picked sixth in 2023 preseason football poll
* Craig Bohl, we have a few questions for you
* PODCAST: How's that collective coming along?
Fellow running back DQ James is expected to be in the lineup when the Red Raiders come to town. The 5-foot-7, 170-pound sophomore suffered a torn ACL late in the regular season and was sidelined during spring camp. James rushed for 346 yards on just 40 carries in 2022. That's an average of 8.6 yards per carry.
"We've always had somewhat of an ability to have running-back-by-committee when we've really been good," Bohl said. "I think last year, we probably got a little bit imbalanced with Titus (Swen). I think we're going to have more home-run plays from that group."
Wide receiver Gunner Gentry is still making his way back into the lineup after missing the last two seasons with knee injuries. The Aurora, Colo., native last played during the pandemic-shortened 2020 campaign. He finished with two catches for 28 yards, including a touchdown, in just six games.
Despite missing all or most of spring camp with various injuries and surgeries, Easton Gibbs (Linebacker), Shae Suiaunoa (Linebacker), Caleb Cooley (Returner/ WR), Cole Godbout (Nose tackle), Jakorey Hawkins (Cornerback), Deron Harrell (Cornerback), Cole DeMarzo (Linebacker), Frank Crum (Left tackle), Dawaiian McNeely (Running back) and Will Pelissier (Wide receiver) are all on the team's initial depth chart.
University of Wyoming's Top 50 Football Players
The rules are simple: What was the player's impact while in Laramie? That means NFL stats, draft status or any other accolade earned outside of UW is irrelevant when it comes to this list.
This isn't a one-man job. This task called for a panel of experts. Joining 7220's Cody Tucker are Robert Gagliardi, Jared Newland, Ryan Thorburn, and Kevin McKinney.
We all compiled our own list of 50 and let computer averages do the work. Think BCS -- only we hope this catalog is fairer.
Don't agree with a selection? Feel free to sound off on our Twitter:
@7220sports
- #Top50UWFB
- University of Wyoming's Top 50 Football Players