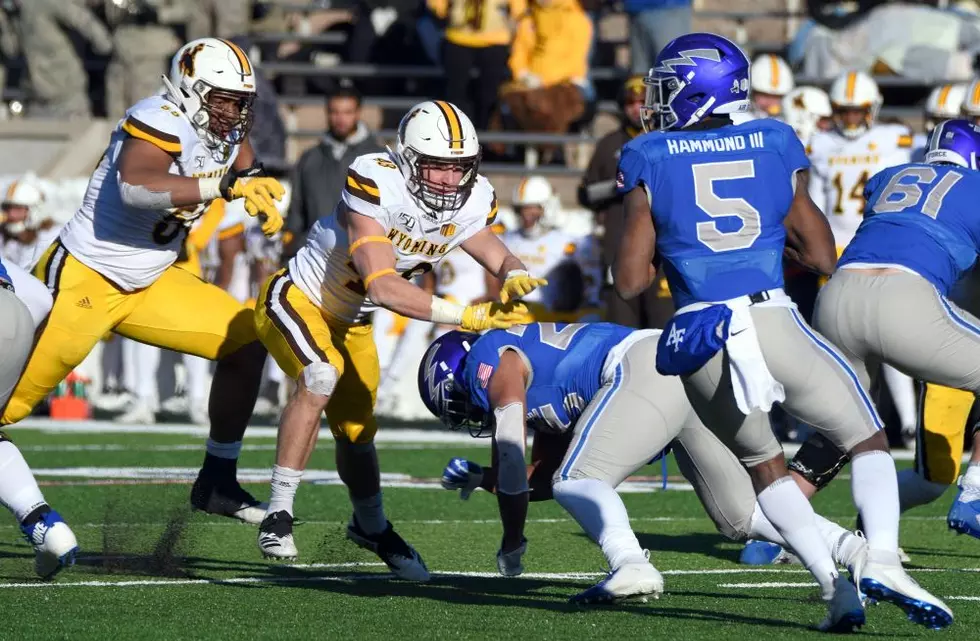 Do you consider the UW-Air Force matchup a rivalry game?
Wyoming linebacker Chad Muma attempts to avoid a cut block during the Cowboys' 20-6 loss to Air Force back in 2019./ 7220sports.com photo
LARAMIE -- Troy Calhoun is non-committal when it comes to the subject of whether or not Wyoming and Air Force is a true rivalry game.
Craig Bohl, well, let's just say he's doesn't share those same feelings.
"I would consider it a rivalry game," Wyoming's eighth-year head coach said. "You go in our locker room ... it's a rivalry game. Maybe it's not to coach Calhoun, but it is to us."
The numbers -- and moments -- back Bohl.
Air Force leads the all-time series 29-26-3. There have been the infamous games, too.
In 1988, Randy Welniak and Co. erased a 21-point fourth-quarter deficit to stun the Falcons 48-45 in Colorado Springs. Calhoun was a back-up quarterback that afternoon. He watched Sean Fleming's 27-yard field goal split the uprights.
There was a 1996 tilt when another Wyoming placekicker sent the Falcons packing with a last-minute field goal. That was courtesy of Cory Wedel. In front of a capacity crowd inside War Memorial Stadium, the Cowboys escaped, 22-19.
More recently, in 2018, back-up quarterback Tyler Vander Waal came in cold -- literally, it was minus-4 degrees in Laramie -- and led the Cowboys back from 13 points down with less than nine minutes to go in regulation. Vander Waal fired a 22-yard bullet to Austin Conway, who got blasted in the end zone.
That gave Wyoming its first lead. A 27-yard touchdown run by Xazavian Valladay put a bow in the improbable.
The Falcons have had their moments in this series, too.
The biggest came in 1998 with a division title on the line. Fisher DeBerry's stingy defense allowed a single field goal in a 10-3 victory inside War Memorial Stadium. Air Force went on to play in the WAC Championship game. The Cowboys, a bowl invite still on the line, laid an egg a week later in Tulsa, falling to the Golden Hurricane, 35-0.
There was also that postgame skirmish between then-Wyoming head coach Dave Christensen and Calhoun after the 2012 tilt in Laramie. Christensen went ballistic, claiming Calhoun's quarterback, Connor Dietz, faked an injury late in the 28-27 loss. The tactic, according to Christensen, allowed the Falcons to utilize that extra time to strategize.
"There was nothing wrong with that player, except that his helmet came off," Christensen told the Associated Press that night. "And I have a real problem with that."
"In this game we're supposed to be ethical, and that's not ethical," Christensen continued. "I don't know what they teach at Air Force, but I'm not going to teach that to my kids. I want my guys to get off the field when they're hurt, and we don't want to stop the game."
Christensen was suspended for one week and fined $50,000 by the university after his viral tirade.
MORE UW-AFA FEATURES:
* Troy Calhoun: 'We want to play well in that game'
* Is Wyoming and Air Force really a rivalry?
* This date in UW football history: Wyoming 48 Air Force 45
* Cowboy Classics: 'I hated Air Force more than CSU'
Air Force knows all about rivalries.
There's the annual battle with Army and Navy for the coveted Commander-in-Chief's Trophy. The Academy also battles in-state rival Colorado State each fall. The winner of that claims the Ram-Falcon trophy.
Thanks to the COVID-19 pandemic, Wyoming and Air Force didn't meet on the football field last season for the first time in 39 years.
Calhoun might not be calling this a true rivalry clash, but he knows this game means more.
"We have a great deal of respect for them," Calhoun said last July at the annual Mountain West Media Days in Las Vegas. "I know it stirs up, I don't want to say animosity, but it stirs up interest and you never ever want somebody to be able to live by subjective emotionalism. We want to play well in that game. We want to be competitive in that game."
Wyoming defensive end Victor Jones has been on the winning and losing side of this matchup. Does he consider the Falcons a rival? Yes, with conviction. While Colorado State will always be the Cowboys' No. 1 nemesis, Jones said this game is special. The fact that it's UW's conference opener, just adds more fuel to the fire.
"I definitely don't like playing Air Force," Jones said, adding that he holds those feelings because of the cutting of the Falcons' offensive line and the chippy nature of the game. "It's one of those games every year that's always on your mind."
Easton Gibbs saw his first collegiate playing time against the Falcons in 2019. He was on the Cowboys' special teams unit. Though he wasn't a major player in the outcome like he figures to be Saturday, Gibbs said he could feel the tension.
"I mean, they're bordering us right there down in Colorado," UW's outside linebacker said. "A lot of guys (on our team) are obviously from Colorado, which makes it a personal game. I definitely think it's turned into quite a rivalry down there, so we're excited to go down there and show them what we've got."
Since Bohl arrived in Laramie in 2014, his Cowboys are 4-2 against their Front Range foe in Colorado Springs. Those games have been decided by an average of 10.5 points. That number is a tad deceiving.
Wyoming had that big fourth-quarter comeback in 2018. The following year, Air Force connected on a 75-yard touchdown pass to pull away late.
Saturday's result could go a long way in determining the Mountain Division this fall.
Sound like a rivalry game to you?
"With Colorado State we're playing for the (Bronze Boot), but the Air Force game -- for our players and our coaches -- is a game that we've always looked forward to it," Bohl said. "They've been hard-fought games and we're anticipating one this coming Saturday."
LOOK: Pokes' unis through the years