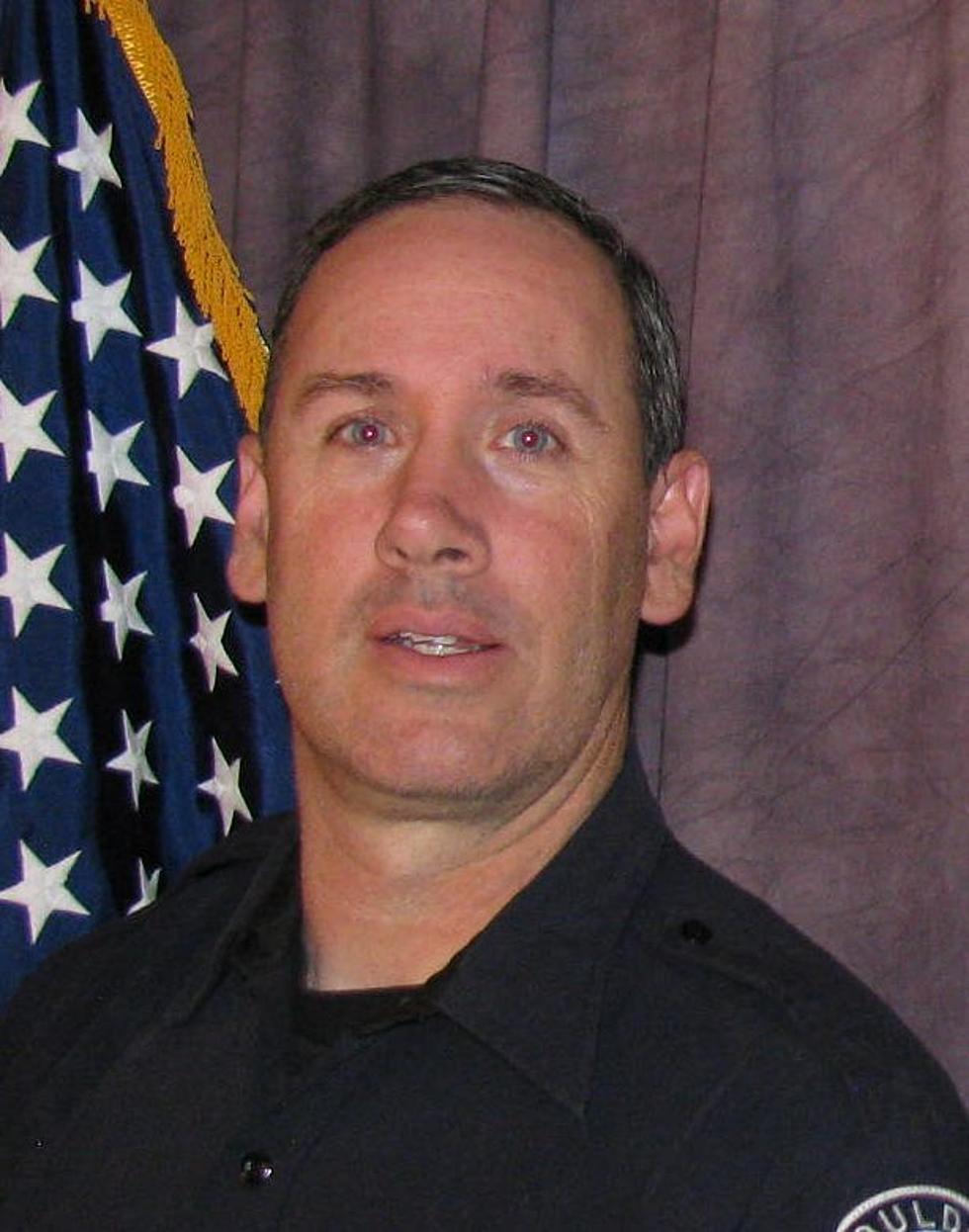 Boulder PD Officer Confirmed Dead After King Soopers Shooting
Boulder Police Department/Twitter
The Boulder Police Department has confirmed that one of their own, Officer Eric Talley, was one of the ten people killed when a gunman opened fire at a King Soopers in Boulder on Monday (Mar. 22).
On Monday night, Boulder Police conducted a live press conference in response to the senseless, tragic act of violence that occurred at 3600 Table Mesa Drive earlier that day.
During the press conference, Boulder Police Chief Maris Herold identified 51-year-old Eric Talley as one of the ten victims of the shooting. Talley had been a member of the Boulder Police Department since 2010.
Chief Herold said Officer Talley arrived on scene just minutes after the first 911 calls came in reporting shots fired at the King Soopers supermarket around 2:30 p.m. local time.
"I have to tell you the heroic action of this officer when he responded to the scene," the chief said, adding that Talley responded after "a phone call about a possible person with a patrol rifle."
"Officer Talley responded to the scene, was the first on the scene, and he was fatally shot."
The names of the other victims of the shooting were not publicly known as of late Monday night.
Officer Mark Bliley, head of the Boulder Police Department's union, said Talley was a close friend who was passionate about policing. Talley had a unique ability to connect with people on the job, Bliley said.
"He was just a highly respected, well-loved person and officer," Bliley said. "Just a solid person … I don't know of anyone who didn't like Eric."
The fallen officer "served in numerous roles supporting the Boulder Police Department and the community of Boulder," Police Chief Herold told reporters.
Other officials, including Boulder District Attorney Michael Dougherty offered their condolences during Monday night's press conference, while assuring that a thorough and proper investigation will be conducted in wake of this horrific tragedy.
"My heart goes out to Eric Talley's family, his loved ones, and his colleagues," Boulder District Attorney Michael Dougherty said. "He was, by all accounts, one of the outstanding officers of the Boulder Police Department, and his life was cut far too short, as he responded to the shooting that was taking place at King Soopers."
Local, state and federal partners are all working on the investigation into the shooting, along with prosecutors from the US Attorney's Office "to ensure that justice is done," Dougherty told reporters.
"I promise the victims and the people of the state of Colorado, that we will secure justice and do everything we must do to get justice in this case, in order for that to happen, a painstaking investigation is already underway, both at the crime scene and in interviews to make sure we receive all the accurate information," the district attorney said.
Eric Talley is the first officer from the Boulder Police Department to be killed in the line of duty since 1994 and the sixth on-duty death in the department's history, according the National Law Enforcement Officers Memorial Fund.
Officer Talley is survived by his wife and seven children, the oldest of whom is 20, according to his father.
"He loved his family more than anything," Homer Talley said.
New information regarding Monday afternoon's shooting will be released in Boulder PD's next press conference, scheduled for 8:30 a.m this morning (Tuesday, Mar. 23) as per reports from the Boulder Police Department's
Twitter page
.
6 Infamous Inmates of Colorado's Supermax Prison