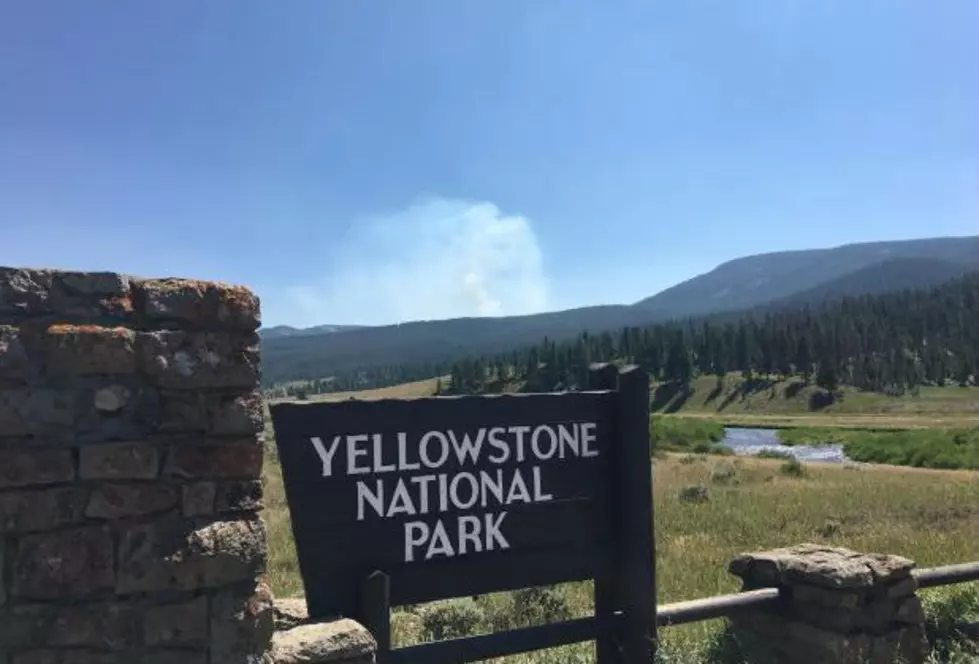 UPDATE: Bacon Rind Fire Causes Traffic Delays, Forces Closures Of Yellowstone Trails
Inciweb
The three-week-old Bacon Rind Fire has penetrated the far western edge of Yellowstone National Park, prompted the closures of trails and backcountry campsites, and caused traffic delays, according to wildfire and park sources.
Increased fire activity on Monday occurred on the eastern and southern edges of the fire area, according to the U.S. Forest Service on Monday night.
Poor visibility from smoke and fire fighters engaging the fire prompted officials to enact intermittent delays on U.S. Highway 191.
Travelers will experience traffic control by flaggers and should expect 30-minute delays until conditions improve.
Meanwhile, the U.S. Bureau of Land Management has reported three new fires in western Wyoming.
When the lightning-caused Bacon Rind Fire was first reported, it measured only 25 acres in size, but now has reached 1,321 acres -- more than two square miles -- because of warm temperatures, drier air, and higher winds last weekend. Fire growth is expected to be moderate this week due to lower temperatures and increased moisture.
U.S. Highway 191 and all roads leading into and through the Custer Gallatin National Forest and Yellowstone National Park are open.
All roads and visitor facilities in Yellowstone National Park and surrounding communities remain open.
However, the following park trails are closed:
Daly Creek Trail.
Black Butte Trail.
Daly/Black Butte Cutoff Trail.
Daly/North Tepee Cutoff Trail.
Specimen Creek Trail.
Sportsman Lake Trail (east fork of Specimen) from U.S. Highway 191 to Gallatin BMA three miles from Sportsman Lake Cabin.
Crescent-High Lake Trail.
Skyrim Trail (Daly pass to Sheep Mountain).
Fawn Pass Trail at U.S. Highway 191 to Gallatin BMA boundary.
Fan Creek Trail to Sportsman Lake Trail Junction.
Bacon Rind Trail.
The following Yellowstone National Park backcountry campsites are closed: WF2, WF1, WE1, WE4, WE7, WE5, WE6, WD1, WD6, WD4, WD5, WC2, WC3, WC4.
=====================================
Meanwhile, firefighters are working on three other fires in Western Wyoming:
The Old Dump Fire, cause unknown, near Osprey Road northeast of Pindale has been 100 percent contained with the assistance of wildland firefighters from the BLM's High Desert District and Pinedale Field Office, Sublette County, and the U.S. Forest Service. The
The 37-acre fire is burning in sage-grouse habitat near power lines and fences in the area. The public is urged to use caution or avoid the area since fire behavior can change due to high winds and other weather conditions.
Currently there are no evacuations in place, no residential structures at risk, and no injuries reported. Two BLM engines will remain to patrol the fire and ensure fire lines remain in place.
The cause of the wildfire is under investigation and fire investigators are on scene.
The Fire Trail Fire was first reported on Saturday and was last reported to be 50 acres in size with 18 percent containment about four miles east of Alpine and one mile west of the Squaw/Murphy Creek Road.
The Squaw/Murphy Creek Road is closed for emergency fire suppression activities.
The Greys River Road is open.
The fire is actively burning in heavy timber.
The Powerline Fire, located in Oregon Basin seven miles southeast of Cody,  is approximately 2,600 acres burning in sage and grass.
The cause of the fire is under investigation.
The fire was reported at 6 p.m. Sunday and BLM, U.S. Forest Service, and Park County firefighters responded as well as two single-engine air tankers, one air attack platform, and seven fire engines.
Increased relative humidity and decreased temperatures mitigated the fire overnight.
Firefighters urge the public to not use drones in the area. "Remember, if you fly, we can't."