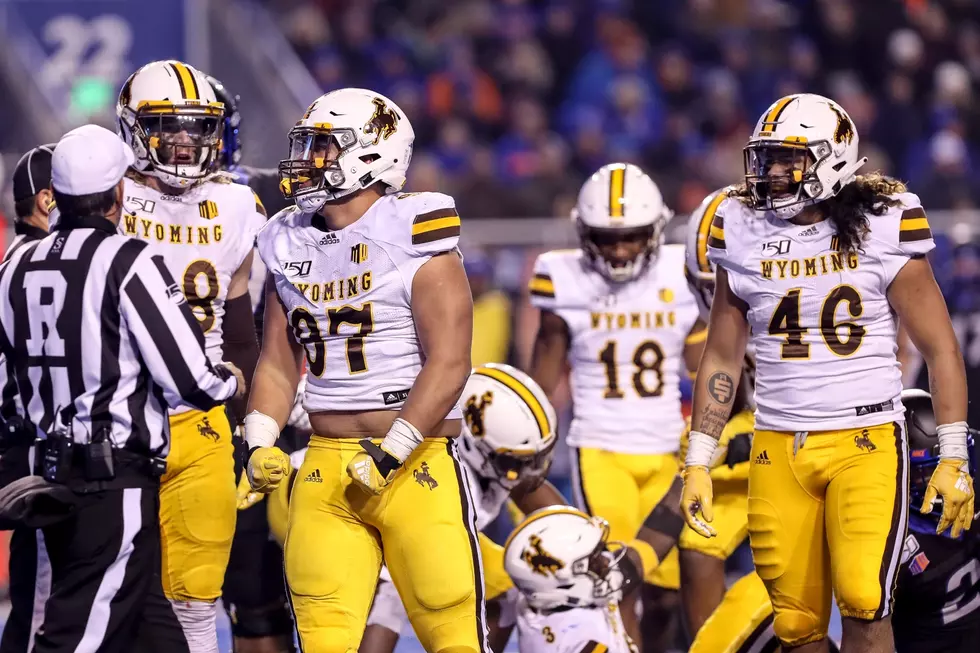 Wyoming's opt outs will be back in 2021
Defensive tackle Mario Mora #97 of the Wyoming Cowboys leads his team off the field after a defensive stop during the second half against the Boise State Broncos on November 9, 2019 at Albertsons Stadium in Boise, Idaho. Boise State won the game 20-17 in overtime. (Photo by Loren Orr/Getty Images)
LARAMIE -- Just how much production did the Cowboys lose in 2020 due to opt outs?
Let's start on the defensive side of the ball:
* 118 tackles
* 17.5 tackles for loss
* 10.5 sacks
* 3 forced fumbles
* 1 interception
* 5 pass breakups
Think that might have come in handy against Nevada, Colorado State, New Mexico and Boise State?
Wyoming's offense took less of a hit, losing just one player. But his numbers -- and power -- certainly would've helped.
* 67 rushing attempts
* 349 rushing yards
* 1 rushing touchdown
* 3 catches
* 46 yards
Wyoming head coach Craig Bohl announced last Wednesday that all six of those Cowboys -- Solomon Byrd, Davon Wells-Ross, Mario Mora, Claude Cole, Rome Weber and running back Titus Swen -- will return to the program in 2021.
"They are," he said when asked if the guys who sat out the 2020 campaign will be back. "You know, COVID-19 was a unique circumstance for all of our players ... But all the players who had opted out from COVID are now in the midst of our winter-conditioning program."
That is all but one. Bohl didn't name names, but said one of those guys above is dealing with an "unrelated medical issue" and is not currently on campus.
In his season-ending press conference, a visibly frustrated Bohl was asked that very same question.
His answer was very different.
"You know what, I have not had any conversations with any of them when they opted out or they opted out of their athletic activities," he said in mid-December. "They were still students but I haven't had one conversation with any of them.
"...  I think there will probably be some honest conversations. You know, with them, it has been, I'll just be real frank, I've coached, I don't know, 38 years? I've ever been through more of a frustrating time my whole life."
Bohl went on to say that one player who already contracted the virus opted out, to his dismay.
He ended with this.
"We're going to move forward, by God," he said. "I can just tell you this, we're going to move forward with a bunch of guys in that locker room that want to put their hand in the dirt. They want to understand where the bar is at and get better because this season was unacceptable."
Of course, he was referring to the virus-shortened six-game season that saw the Cowboys finish 2-6, lose the Bronze Boot for the first time in five years and fall to a previously winless New Mexico squad.
Wyoming also fielded one of the worst passing offenses in the nation, throwing for just 920 yards and a single touchdown compared to five interceptions.
Arguably one of the biggest units to take a hit because of the opt outs was the defensive line.
Wyoming was without Byrd, who tallied a team-high 6.5 sacks, including 9.5 tackles for loss in 2019. His absence, along with Wells-Ross and a lingering foot injury for Garrett Crall, hampered the Cowboys' pass rush all season long.
They registered just 15 team sacks without those three. Crall did pick up a pair once he returned to the lineup in late November.
To make matters even worse, hybrid Victor Jones was suspended from the team for a violation of team rules after the CSU game. Bohl said Wednesday that Jones could return to the team in 2021. Freshman Cameron Smith, who is currently in the transfer portal, was also suspended before the season finale against Boise State.
The interior of that line also suffered some major blows.
Mora racked up two sacks and 3.5 tackles for loss in 2019. His backup was Cole. The Cowboys also were without the services of defensive tackle Ravontae Holt over the final four games. He suffered another torn ACL. Bohl said he is currently working out with the team at a limited capacity.
Wyoming also missed Weber, who along with Esaias Gandy, were supposed to form one of the top safety tandems in the Mountain West. Weber picked off one pass in 2019 and piled up 38 tackles.
The Cowboys hauled in just four interceptions a season ago. Safety Braden Smith snagged one of those.
Enter your number to get our free mobile app
Super Bowl Champions From Wyoming