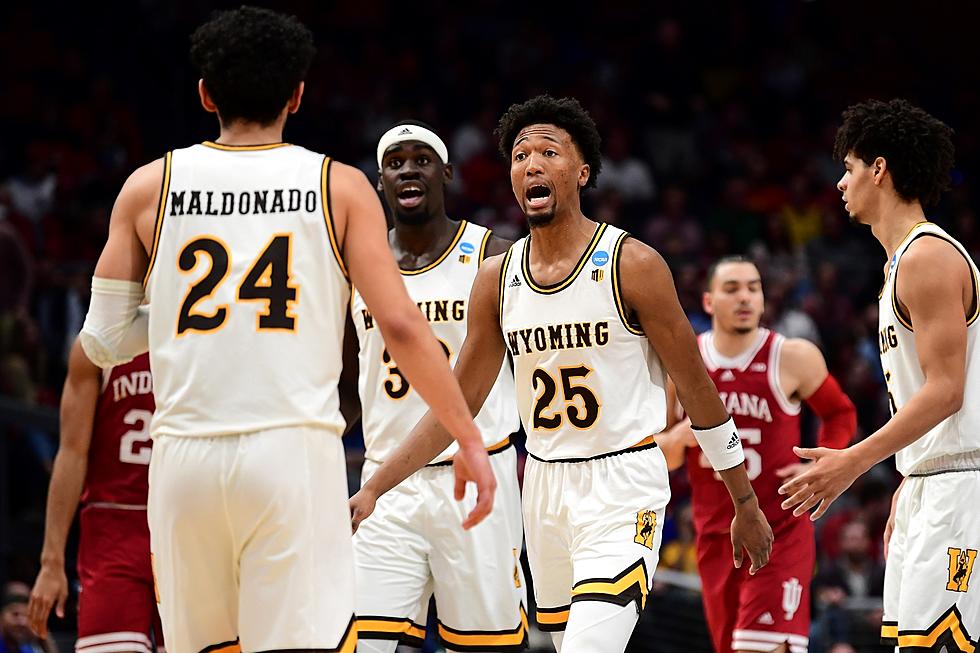 Wyoming garnering plenty of national respect this offseason
DAYTON, OHIO - MARCH 15: Jeremiah Oden #25 of the Wyoming Cowboys reacts during the second half against the Indiana Hoosiers in the First Four game of the 2022 NCAA Men's Basketball Tournament at UD Arena on March 15, 2022 in Dayton, Ohio. (Photo by Emilee Chinn/Getty Images)
LARAMIE -- The deadline to withdraw from the NBA Draft has come and gone.
Hunter Maldonado announced before June 1 he is coming back to Wyoming. A few other Mountain West schools weren't so fortunate.
Reigning conference player of the year, David Roddy, will not return to Fort Collins for his senior season. Fresno State big man Orlando Robinson is also taking his chances on being selected at the end of the month.
Emmanuel Akot pulled his name from draft consideration, but is still in the NCAA Transfer Portal. It appears his time at Boise State has come to an end. Mladen Armus is turning pro, too.
Aside from the Cowboys, San Diego State suffered the least amount of turnover this offseason. The league's defensive player of the year, Nathan Mensah, announced on May 26 that he will return to the Aztecs. Matt Bradley, who netted a game-high 30 points on 5-of-9 shooting from beyond the arc in SDSU's 73-66 victory last February in Laramie, is also staying put.
Though teams can still utilize the portal to plug holes, Andy Katz Thursday released his Power 36 men's college basketball rankings.
SDSU is the highest-rated Mountain West team, coming in at No. 23. Why? The return of the two guys above plays a big part. So does the Aztecs' defense, which allowed just 58.1 points per game last season.
Katz has Jeff Linder's Cowboys ranked 25th in the country.
"The Cowboys made the NCAA tournament and should be back with the return of Hunter Maldonado and Graham Ike," Katz writes.
Drake Jeffries, who averaged 10.3 points per game and connected on 40.9% of his three-points attempts, is Wyoming's most significant offseason loss. The Illinois native decided to forgo his senior season to turn pro.
UW did lose four players to the transfer portal -- John Grigsby, Deng Dut, Ben Bowen and Eoin Nelson. That foursome combined for 21 total points.
Linder replaced that limited production with Southern Cal transfers Ethan Anderson and Max Agbonkpolo. UCLA's Jake Kyman, a former AAU teammate with those former Trojans, also signed on the dotted line to play this season in Laramie.
The Cowboys' roster will also be bolstered by the return of guard Kenny Foster. The sophomore appeared in just nine games during the 2021-22 campaign after suffering an ankle injury and dealing with the effects of COVID-19 and mononucleosis.
Maldonado, who spent the offseason toeing the NBA waters, was a First Team All-Mountain West selection last season after averaging 18.5 points, 5.7 rebounds and 6.3 assists per game. The Colorado Springs product was the only player in the nation to average those numbers.
Wyoming and SDSU might be the only Mountain West Schools to make Katz' Top 36, but the Cowboys will play two other teams on this list -- that we know of -- in their non-conference schedule, No. 19 Dayton and No. 35 Saint Mary's.
Jon Rothstein of CBS Sports reported Wyoming and Saint Mary's will meet Dec. 10 in a neutral-site meeting in Phoenix. The Cowboys and Flyers will play inside Chicago's United Center seven days later as part of a new annual tournament.
Rothstein today also announced his Top 45 list.
He ranks the Aztecs No. 16 overall and the Cowboys come in at 29. He lists Dayton at No. 32.
University of Wyoming's Top 50 Football Players
The rules are simple: What was the player's impact while in Laramie? That means NFL stats, draft status or any other accolade earned outside of UW is irrelevant when it comes to this list.
This isn't a one-man job. This task called for a panel of experts. Joining 7220's Cody Tucker are Robert Gagliardi, Jared Newland, Ryan Thorburn, and Kevin McKinney.
We all compiled our own list of 50 and let computer averages do the work. Think BCS -- only we hope this catalog is fairer.
Don't agree with a selection? Feel free to sound off on our Twitter:
@7220sports
- #Top50UWFB
- University of Wyoming's Top 50 Football Players