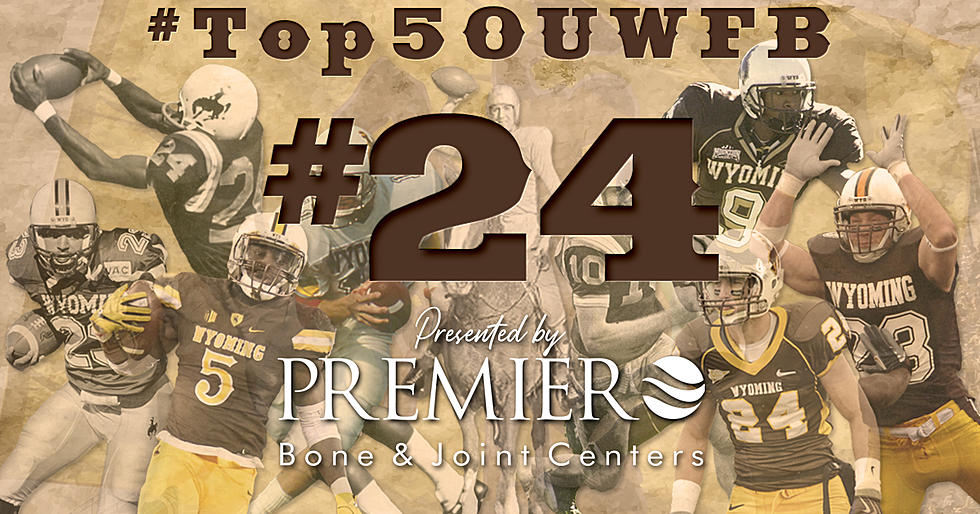 UW's Top 50 football players: No. 24
Jen Kost graphic/ UW courtesy photos
LARAMIE -- During this summer series we are going to countdown the Top 50 football players in Wyoming history, presented by Premier Bone & Joint Centers, Worthy of Wyoming.
The rules are simple: What was the player's impact while in Laramie? That means NFL stats, draft status or any other accolade earned outside of UW is irrelevant when it comes to this list.
This isn't a one-man job. This task called for a panel of experts. Joining me is Robert Gagliardi, Jared Newland, Ryan Thorburn and Kevin McKinney. We all compiled our own list of 50 and let computer averages do the work. Think BCS -- only we hope this catalog is more fair.
Don't agree with a selection? Feel free to sound off on our Twitter page @7220sports.
Casey Bramlet
Quarterback, 2000-03, Wheatland, Wyoming
Here's why: Casey Bramlet never played in a bowl game during his four-year career in Laramie.
In fact, he never came close.
The Wheatland product was under center during, shall we say, the lean years of Cowboy football. How lean? UW won just five games during his first three years on campus.
That certainly wasn't Bramlet's fault.
Despite the mounting losses -- 37 of them -- Bramlet is still the school's all-time leader in career passing yards (9,684), pass attempts (1,378) and completions (767). His 56 touchdown strikes was the standard until Brett Smith put up 76 in just three seasons.
Bramlet's 453-yard passing day against UNLV back in 2002 tied Josh Wallwork for the best single-game performance in UW lore. That is until Smith torched Hawaii for 498 yards in 2013.
Joe Glenn was named head coach in 2003 before Bramlet's senior season, replacing Vic Koenning who went 5-29 in his three years on the sideline in Laramie.
Bramlet never knocked off Border War rival Colorado State in his first three tries. The Rams outscored the Cowboys, 123-63. Thirty-six of those came in a 44-36 loss Bramlet's junior season. Wyoming played its other main rival, BYU, down to the wire in those first three years. Still, no wins.
That all changed under Glenn.
Yes, the Cowboys won just four games in 2003, but two of those came against the Rams and Cougars. Bramlet finally got to hoist the Bronze Boot.
As a sophomore, Bramlet was named to the All-Mountain West second team. He earned honorable mention honors the final two seasons.
Bramlet was selected 218th overall in the seventh round of the 2004 NFL Draft by the Cincinnati Bengals.
Tucker's take: Those wins over CSU and BYU were some of my fondest.
Imagine how Bramlet felt?
We joke that Corey Bramlet, Casey's younger brother, owes him a bowl ring. In 2004, Corey led the Cowboys to a 24-21 victory over UCLA in the Las Vegas Bowl. Casey took the lumps, little bro got the bling.
There's no sugarcoating it -- those years were rough under Koenning.
Confidence is a funny thing. The Cowboys predictably dropped their first two games of the 2000 season. Those were at Auburn and at Texas A&M. They found their footing in Week 3, handling Central Michigan, 31-10. It all unraveled against Nevada the following week on a frigid night under the lights at War Memorial Stadium.
Wyoming had a 21-7 lead. The Wolf Pack, who were an hour late to Laramie after a 12-car pileup on icy I-80, reeled off 21 straight points and pulled off the stunner. The Cowboys went on to lose their last eight games.
They would lose 19 of their next 23 and Koenning was shown the door.
Bramlet, as humble and friendly as they come, has found a silver lining in the whole experience. He figures no other team in school history watched the goal posts go down more times than his did. When the Pokes pulled off an improbable upset over No. 22 Air Force in '03 -- down they went.
The victories over CSU and BYU produced the same results.
Bramlet was a tough customer. I have never seen a drop-back, pocket passer take licks like he did. Yet, he got right back up. Imagine how easy it would've been to miss a game? Most of them were at night, for one. That's when the university first got permanent lighting. Second, it has to be hard to prepare all week when the outcome is all but known.
Bramlet will forever be one of my favorite Cowboys of all time. He was tough. Wyoming tough. I can't help but wonder what Bramlet's career would've looked like in the end if he played for Joe Tiller or Dana Dimel.
Could you imagine?
How the panel voted: Cody Tucker (21), Robert Gagliardi (20), Jared Newland (21), Ryan Thorburn (24), Kevin McKinney (NR)
Previous selections: No. 50, No. 49, No. 48, No. 47, No. 46, No. 45, No. 44, No. 43, No. 42, No. 41, No. 40, No. 39, No. 38, No. 37, No. 36, No. 35, No. 34, No. 33, No. 32, No. 31, No. 30, No. 29, No. 28, No. 27, No. 26, No. 25
Cody Tucker: Brand Manger and creator of 7220sports.com. Tucker has covered the Cowboys since June of 2019, but was a season-ticket holder for nearly three decades. Tucker has also covered Michigan State University Athletics for the Lansing State Journal and Detroit Free Press and the NHL's Pittsburgh Penguins during his 10-year journalism career
Robert Gagliardi: Former sports editor and University of Wyoming beat reporter for WyoSports. Gagliardi covered the Cowboys from more than a quarter century. He also covered the team at the Branding Iron, the UW student newspaper. Gagliardi also co-authored the book: The Border War: The Bronze Boot Rivalry Between Colorado State and Wyoming
Jared Newland: Currently the local sales manager for Townsquare Media SE Wyoming, Newland worked with and around Wyoming athletics for 20 years, starting as a student athletic trainer in 1990. Newland has also served in the Sports Information Office, the Cowboy Joe Club, Wyoming Sports Properties and was a UW Athletics Hall of Fame Committee Member from 2002-14.
Ryan Thorburn: Currently covering the Oregon Ducks for The Register-Guard, Thorburn also covered the Cowboys in the early and mid-90's for the Branding Iron and Casper Star Tribune. He has also written four books about Wyoming Athletics: The Border War: The Bronze Boot Rivalry Between Colorado State and Wyoming, Cowboy Up: Kenny Sailors, The Jump Shot and Wyoming's Championship Basketball History, Lost Cowboys: The Story of Bud Daniel and Wyoming Baseball and Black 14: The Rise, Fall and Rebirth of Wyoming Football
Kevin McKinney: Currently the senior associate athletics director for external affairs at the University of Wyoming, McKinney also serves as the radio color commentator for Wyoming football and men's basketball. McKinney has been involved with UW Athletics in some capacity since 1972. He was also inducted into the Wyoming Association of Broadcasters Hall of Fame in 2015.
GHOST STORY: Cheyenne's 5 Most Haunted Buildings