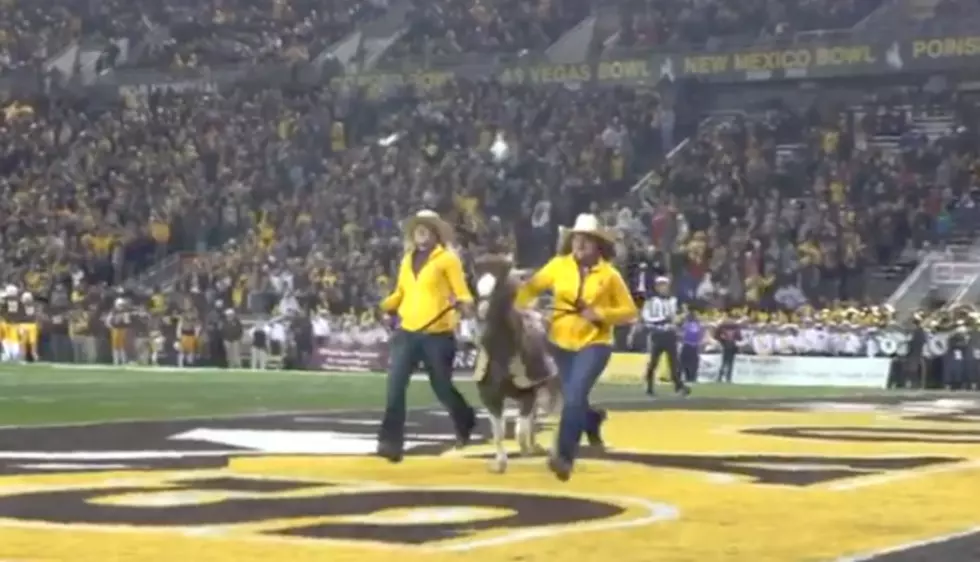 PETA Wants 'Cowboy Joe' Ejected From Wyoming Football Games
University of Wyoming, YouTube
Following an incident involving University of Texas Longhorns mascot "Bevo" at the Sugar Bowl this week, People for the Ethical Treatment of Animals are calling for the removal of live mascots from collegiate sporting events.
"Human mascots can engage with sports fans, pose for pictures, lead cheers, and pump up their teams and fans much better than a terrified animal can," PETA blogged this week.
The organization claims they are sending letters to several colleges, conferences, and the NCAA urging administrators to keep animals off the sidelines. Although unlikely, a ban on live mascots at sporting events would effectively end a longstanding tradition at the University of Wyoming.
The legend began in 1950 when the Farthing family discovered a Shetland pony whose mother had died. After they nursed the orphan back to health, they named him Cowboy Joe and donated him to the University of Wyoming.
"We traveled all over the state. We went in the bars, everywhere, ahead of homecoming, we did a tour. Everybody said, bring him in, bring him in! So we'd just bring him right into the bars and have a drink, and if he pooped on the floor, he just pooped on the floor," former handler Brian Heinz told Wyoming Public Media in 2012.
When the original Cowboy Joe retired in 1965, the Farthing family donated another pony from their ranch. Cowboy Joe II served until 1981. The current mascot, Cowboy Joe V took over in 2013. Later that year he was voted the Cutest Mascot in College Football.
Cowboy Joe is more than a handsome colt, he's also well behaved; at least on game days. To date, he's never attacked another mascot, including a few times when Cam the Ram was asking for it.