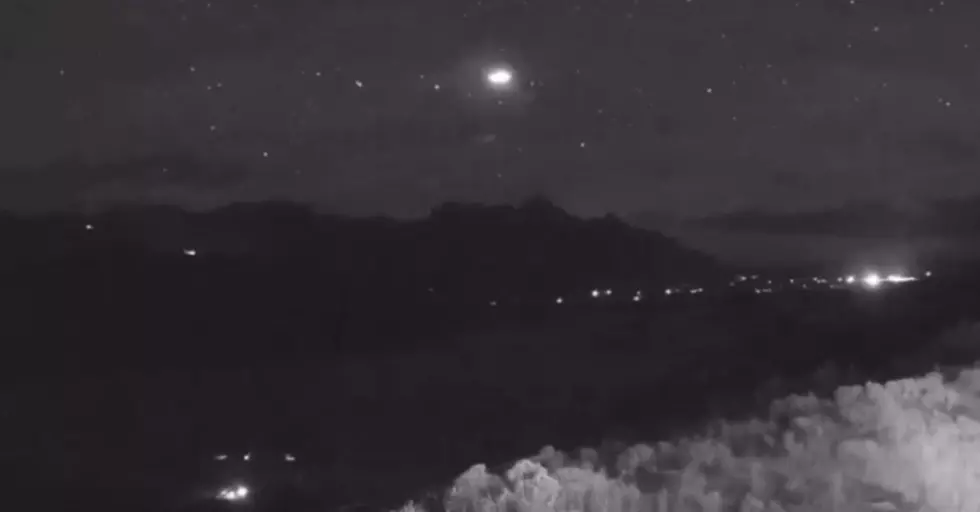 Mysterious Object Hovers Over Jackson Hole [VIDEO]
Buckrail, YouTube
Just after 3:40 a.m. on Sunday, a woman in Jackson Hole was watching the Perseid Meteor Shower when she saw a bright light hovering over the Tetons. With a flash, the object took off and raced across the horizon.
The anonymous woman sent a video to Buckrail with her eyewitness account.
"It could have been a meteor, but it was moving too slowly and seemingly too close to the ground. A plane, perhaps?" she wondered. "It would totally be a plane in my mind if there weren't a weird, bright flash in the end."
After checking logs at the Jackson Hole Airport, Buckrail editors confirmed there were no flights recorded in the area at the time. Then, they sped up a webcam from the nearby Spring Creek Ranch.
Buckrail editors asked several experts for theories about the enigmatic aircraft. University of Wyoming Astronomy professor Michael Brotherton thinks it could be a drone, but he's not sure.
"There does seem to be a flash of light from the object partway through that is likely artificial," Brotherton told Buckrail.
A local pilot offered another explanation, suggesting it could have been a fighter jet. He also noted that there is no military airspace in the area and added that it would be highly unusual to perform those maneuvers at 3:41 a.m.