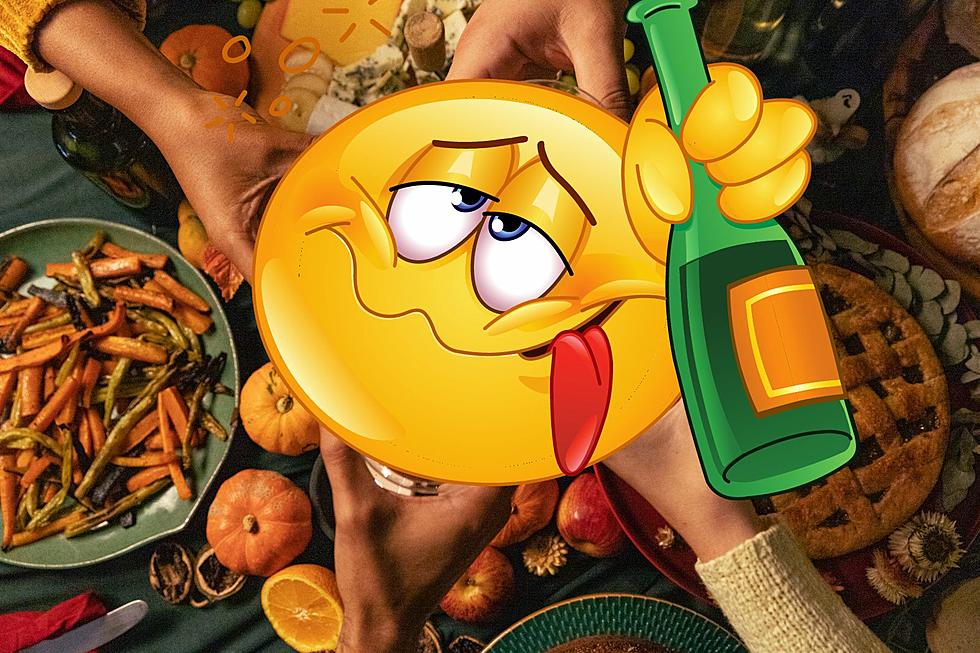 The 6 Drinking Phases Of A Successful Wyoming Thanksgiving
CANVA
Growing up for me, alcohol at Thanksgiving wasn't really a thing. I think we all have that one Uncle or member of the family that was toasty at most family functions, but Thanksgiving was all about the food and family fun. That's not the case in all families, booze is a pretty big part of the tradition for many.
Thanksgiving kicks off a stretch of time that, if they don't have alcohol, many people wouldn't be able to handle the stress of the season. It's just over one month until Christmas, the family is rolling in for turkey day celebrations, Christmas shopping, present wrapping, party planning, all contribute to the desire to up the alcohol consumption.
It may not shock you, but in a recent survey, 37.9% of males and only 18.9% of females said they have 4+ drinks on Thanksgiving. The age bracket where drinking is the most common, 25-34, then the group aged 55-63 was second.
The first un-official party of the Thanksgiving holiday is Blackout Wednesday.
For many, this may be the only time you're able to see all of your old friends that are back in town for the holiday. Kicking back and having a few drinks is a great way to shake the tension of the stressful week and get prepared for the festivities. Blackout Wednesday has been popular with the college kids coming home for Thanksgiving and for many, it's the first time they've been home since school started.
Thanksgiving Day Drinking Game Plan
Knowing when it's ok to start drinking on Thanksgiving is important, because you don't want to be the family member that missed dinner because you're passed out already.
According to 'First We Feast.com', 10 am seems like an ok time to begin your drinking, but remember slow and steady wins the race. You may be one of those families that watch all the Thanksgiving Day specials and parades, and it's ok to start drinking a little earlier.
Here are the phases for your Turkey Day drinking
The Eye-Opener - start with a coffee stout beer or maybe a mimosa. Something that gives you a little something to kickstart your day, especially if you were involved in Blackout Wednesday.
Warming Up - Next up, it's ok to up your game a little and think about a brunch-like cocktail. Like a bloody Mary, Sangria, Mint Julep.
Pre-game / Kick-off - Football is a big part of the days events. Remember that here in Wyoming, the game begins earlier, meaning you'll need to switch to your game-day beverages a little earlier. Something like a light beer, lager or light mixed drink. There's lots of time to get through still.
Packers & Lions - 10:30am kickoff
Commanders & Cowboys - 2:30pm kickoff
49ers & Seahawks - 6:20pm kickoff
Pre-dinner Cocktails - Grab a cocktail of your favorite whiskey, vodka, tequila or other liquor and get warmed up for the upcoming challenge of stuffing yourself.
Mealtime - Time for the dinner that has been in the works for days and will be over in less than an hour. Here's your chance to switch gears and sober up a bit. Switching to wine or a dinner cocktail.
After-Dinner - You've made it. The big dinner is over and it's time to head back and watch more football, catch a nap and grabbing that dessert drink. Put your feet up and grab a couple zzz's  before moving on to dinner 2.0 and maybe a big ol slice of pie.
Enjoy your holiday, remember not to drink-and-drive and always remember to have a designated driver, grab a cab or an Uber, or call a friend.
Happy Thanksgiving.
LOOK: 19 Drinks Only '90s Kids Remember
Grab that weird bendy straw you bought with your Chuck. E Cheese tokens, because we're sluprin' up these definitive flavors of the '90s.
Gallery Credit: Meg Dowdy