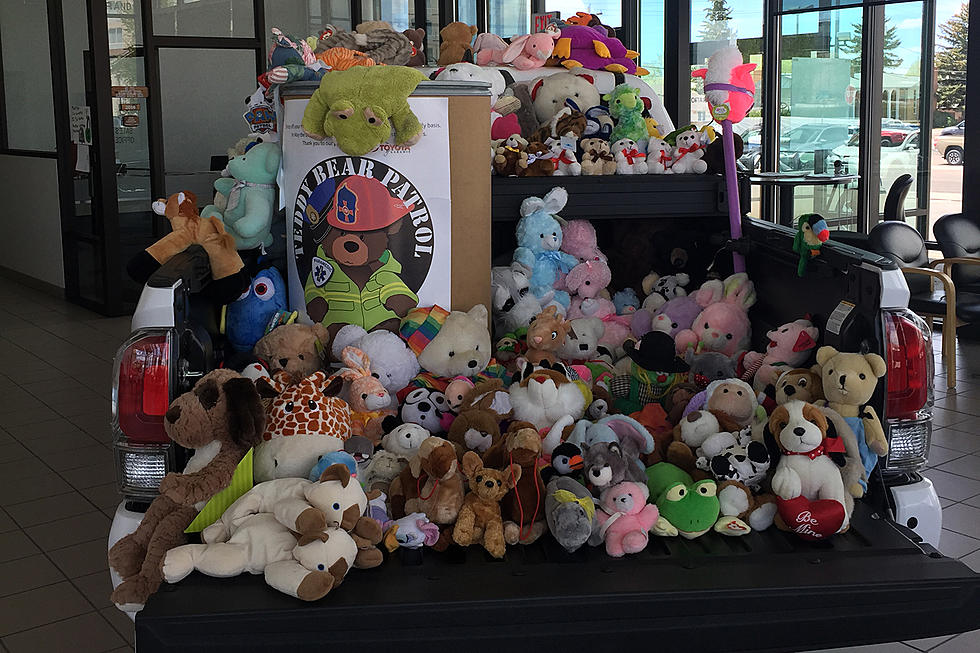 Help Us Collect Teddy Bears for Cheyenne, Laramie First Responders
Holly Kuntz, Townsquare Media
Townsquare Media and Toyota of Laramie have teamed up to bring teddy bears to the first responders of Southeastern Wyoming.
From April 17 to June 1, we will collect teddy bears so that first-responders can distribute them to children during their patrol. The bears will be distributed to children suffering through traumatic situations. We are setting up drop off locations all around Cheyenne and Laramie.
Drop-off locations will have a bear-rel for easy donations.
Cheyenne Drop Off locations:
ABC Seamless – 1212 Ridge Road Ste. 1 Cheyenne, WY 82001
B&B Appliance – 714 Central Avenue Cheyenne, WY 82007
Blue Federal Credit Union branches-
114 E 7th Avenue Cheyenne, WY 82001
5105 Randall Avenue Cheyenne, WY 82005 (Warren AFB)
3810 Dell Range Boulevard Cheyenne, WY 82009
700 S. Greeley Highway Cheyenne, WY 82007
6523 Yellowstone Road Cheyenne, WY 82009
Cheyenne Sports Center – 1205 Dunn Avenue Cheyenne, WY 82001
Meridian Trust Federal Credit Union –
2223 Warren Avenue Cheyenne, WY 82001
4349 E. Lincolnway Cheyenne, WY 82001
Midas – 2423 E. Lincolnway Cheyenne, WY 82001
Speedy Lube – 4505 Frontier Mall Drive Cheyenne, WY 82009
KING FM/Cowboy Country/KGAB – 1912 Capitol Avenue Ste. 300 Cheyenne, WY 82001
Laramie Drop Off locations:
Blue Federal Credit Union - 2405 Grand Avenue, Ste. F Laramie, WY 82070
Cricket Wireless – 2523 Grand Avenue B Laramie, WY 82070
First Interstate Bank – 221 E. Ivinson Street Laramie, WY 82070
Hot Power Yoga – 352 N 3rd Street Laramie, WY 82070
Ivinson Memorial Hospital – 255 N 30th Street Laramie, WY 82072
Laramie Physicians for Women and Children – 2710 E. Harney St #100 Laramie, WY 82072
Martindale's – 217 Grand Avenue Laramie, WY 82070
Murdoch's Ranch & Home Supply – 3322 Grand Avenue Laramie, WY 82070
Toyota of Laramie – 2310 Grand Avenue Laramie, WY 82070
KCGY/KOWB – 3525 Soldier Springs Road Laramie, WY 82070
Cheyenne Drop Off locations:
Laramie Drop Off locations: