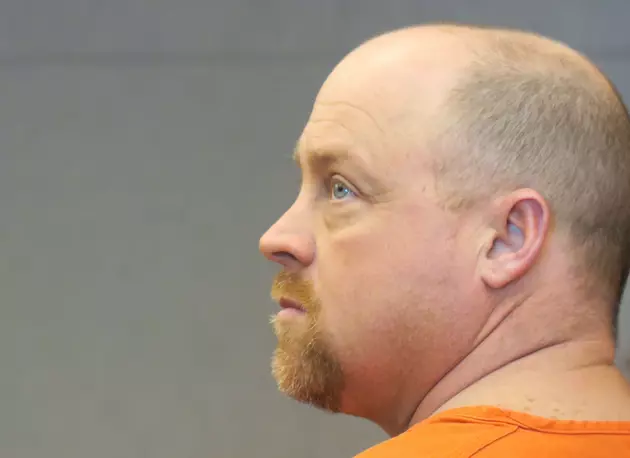 Casper Man Faces 11 Counts Of Sexual Abuse Of Children
Tom Morton, Townsquare Media
A Natrona County man will face trial for sexually abusing three girls over a 20-year period, a judge ordered Tuesday.
If convicted on all counts, Michael Allen Griswold could face life imprisonment, according to court records.
Circuit Court Judge Steven Brown bound over Griswold, 43, for trial after a preliminary hearing that indicated there was probable cause that the crimes were committed and Griswold committed them.
The date for Griswold's arraignment in Natrona County District Court has not been set.
During the preliminary hearing, Assistant District Attorney Kevin Taheri called Natrona County Sheriff's detective Taylor Courtney to testify.
Courtney said the case started in August when a woman approached his office with  information she received about a possible sexual assault of a relative.
The relative was first allegedly assaulted when she was 11 or 12 from 2008 to 2010, and the abuse continued from time to time, Courtney said.
The woman asked the girl's sister if that happened to her. The sister didn't believe it, but later said she had been molested, too, he said.
Another girl was afraid of coming forward. The abuse of that girl started when she was 7. She is now an adult and has a professional presence in the area, Courtney said.
Defense attorney Ian Sandefer asked Courtney about the sister, who reportedly held Griswold in high esteem. He also questioned why it took so long for her to report the abuse.
Courtney responded that sexual predators often groom their potential victims by showing love and creating bonds. Predators may comment about how a girl looks pretty,  but cross a boundary when the comments become sexual.
Victims often do not want to report the abuse because of fear or embarrassment, he said.
He also said there was no DNA evidence, nor evidence of bruising. However, more than 80 percent of sexual assaults do not involve trauma, Courtney said.
===============================
The second amended criminal information document outlined the charges:
The first alleged victim was born in 1997.
Griswold is charged with six counts of first-degree sexual assault of her. Each count is punishable by up to 50 years of imprisonment. These alleged crimes occurred between October 2008 and October 2010; October 2010 and October 2012; and November 2009 and August 2010.
The second alleged victim was born in 1997.
With this victim, Griswold is charged with attempted sexual assault in the third degree of another minor. That is punishable by up to 15 years of imprisonment. He also is charged with taking indecent liberties with that same minor, and that is punishable by up to 10 years of imprisonment.
These alleged crimes occurred between March 2002 and March 2004.
The third alleged victim's birth year was not mentioned in the criminal information document.
Griswold is charged with subjecting this victim to sexual contact when she was physically helpless at Alcova Lake from January through December 1992; forcing the alleged victim and inflicting sexual intrusion on her between  Nov. 1, 1992, and Dec. 1, 1992; and inflicting sexual intrusion on her between May and September, 1994.
These three counts mentioned in the court document did not state the statutes that apply to these alleged crimes, nor do they state the possible punishments.
At the end of the hearing, Brown bound over Griswold on 11 of the 13 counts.
But he dismissed two counts of abuse of another girl who is now an adult.
Taylor said this alleged victim could not remember where Griswold took her other than she traveled with him on a paved road for about an hour and drove on an unpaved road for about another hour.
That could have been anywhere from the northern to the southern areas of Natrona County, Courtney said.
Not knowing for sure where the alleged incidents occurred probably would result in jurisdictional issues that could not be resolved during a trial, so Brown did not bind over Griswold on those two counts.