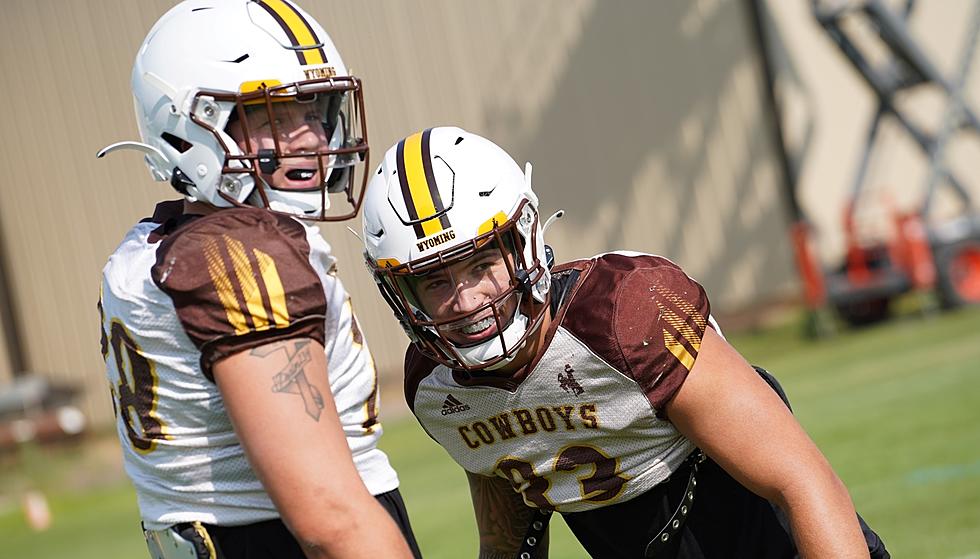 BREAKING: Chuck Hicks to enter NCAA Transfer Portal
Easton Gibbs (from left) and Charles Hicks were in a heated battle for the starting spot at outside linebacker in 2021. Monday, Hicks entered his name in the NCAA Transfer Portal./ UW courtesy photo
LARAMIE -- Charles Hicks never shied away from the position battle he found himself in this spring with fellow outside linebacker Easton Gibbs.
Even on Wyoming's media day  -- the Cowboys first official day of fall practice -- Hicks admitted the competition was already a full go.
"All we do is just compete at a high level," the redshirt sophomore said back on Aug. 6. "It makes us sharper every day. I feel like it keeps us on our toes because, you know, you can't ease off. Other teams aren't going to ease off."
It appears now that the job is a one-horse race and Gibbs is heading toward the Sept. 4 finish line.
Hicks announced Monday afternoon via Twitter that he would be entering the NCAA Transfer Portal.
"Thank you Wyoming," he wrote. "Memories with this group of teammates has been nothing but great. But due to circumstances I will be entering the transfer portal. Coaches feel free to contact me."
The San Diego native was the first true freshman on campus as an early enrollee back in the spring of 2018. Awaiting him was future NFL linebackers Logan Wilson and Cassh Maluia. Hicks appeared in 12 games in 2019, registering four tackles primarily as a special teams player. He redshirted in 2018.
Before the 2020 campaign, Hicks slid into the outside spot vacated by Maluia. He started five of the Cowboys' six games last fall, tallying 27 tackles, including 3.5 for loss and a pair of quarterback sacks. The 6-foot-3, 230-pounder also picked off a pass in Week 2 against Hawaii and forced two fumbles.
Despite the position battle, Hicks said in early August that there was something different about this team.
"When I first got here, I felt like it was a little more separated," he said. "Now, this team is whole -- very family oriented."
Hicks joins former Cowboys Keshaun Taylor (safety), Cameron Smith (DE), Caleb Roberson (CB) and Devon Wells-Ross (DE) in the transfer portal, according to 247sports.com
Hicks, who attended the same high school in San Diego as Marcus Allen, Terrell Davis and many other future NFL players, was also recruited by Boise State, Nevada and Utah State after racking up 157 tackles and an All-CIF San Diego Section Second Team Defense honor as a senior.
These are the current linebackers on Wyoming's roster: Brady Bohlinger (Fr. 6-2, 226), Buck Coors (Fr. 5-11, 178), Keonte Glinton (R-Fr. 6-0, 179), Blake Harrington (So. 5-11, 183), Jovan Marsh (Fr. 5-11, 170), Tommy McEvoy (Fr. 6-2, 195), Chad Muma (Jr. 6-3, 242), Sam Scott (Fr. 6-2, 215), Connor Shay (Fr. 6-2, 210), Shae Suiaunoa (R-Fr. 6-3, 227), Read Sunn (Fr. 6-2, 232), Brent VanderVeen (Fr. 6-2, 220), Tommy Wroblewski (Fr. 6-2, 185).
Gibbs started the Cowboys' season finale at home against Boise State in place of an injured Hicks. The Temecula, Calif., native wrapped up his debut with 13 tackles on a snow-covered afternoon in Laramie. Gibbs quietly was the team's third-leading tackler on the season with 42 stops. Only Muma (71) and safety Esaias Gandy (43) finished with more.
Despite dealing with a hip injury this spring, Gibbs impressed his head coach with his resilience.
"A lot of guys would find their way to get off the field and he's find his way to stay on the field," Craig Bohl said in April.
Gibbs also expressed his desire to be penciled in the starting lineup at the conclusion of spring practice.
"It does, yeah," Gibbs said in April. "Because, I mean, I put in some hard work. At the end of the day, that's everybody's goal. I want to contribute to the team as much as I can. So, either way, I'd love to be the starter on opening day. Either way, I'm here to contribute for this team as much as I can throughout the year."
UW: University of Wyoming Cowboys' Greatest Games From the First Decade of the 2000's