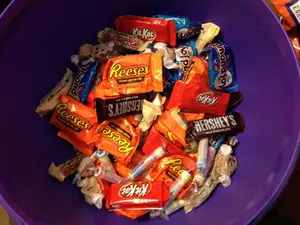 BEST Thing To Do With Left Over Halloween Candy
Coop Townsquare Media
Most kids ate 3,500 to 7,000 calories on Halloween night. A kid that weighs 100 pounds would have to walk for 44 hours or play 14 hours of basketball to burn off all of that sugar. There's diabetes, weight gain, hyper activity and dental concerns. Time to purge that candy out of your and your children's lives.
There are plenty of things to do with your leftover Halloween candy. You can re-purpose some and make new treats. Candy corn can replace marshmallow at Thanksgiving. Make homemade flavored vodka. Bring it to work. Let your coworkers take on the consequences. Hey, you didn't force anybody.
But the best thing you can do is… DONATE IT!
A sweet way to say thank you and give our service men and women a taste of home in a faraway land. Operation Shoebox is a great way to give a gift to one of our own in a distant land. Operation gratitude is another.
And while you're at it, take a moment to write a quick letter of thanks and appreciation for their sacrifice. They are a long way from their family and could be in hostile surroundings. Give them some love.