Chamber Leader Sees Potential Disaster In Fiscal Cliff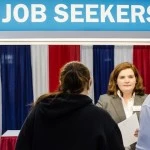 Greater Cheyenne Chamber of Commerce President and C-E-O Dale Steenbergen is warning of dire consequences for Wyoming and the entire U.S. economy if some sort of agreement isn't reached to avoid the "fiscal cliff" currently faced in the federal budget in January.
Both President Obama and congressional Republicans says they hope to avoid the convergence of urgent tax and spending issues, but Steenbergen says that if the talks fail the resulting recession could be far worse than the most recent one, with "massive unemployment and big, big problems". Steenbergen says the impact to the military alone–including F.E. Warren Air Force Base in Cheyenne–could be, in his words "a country killer". Steenbergen says he is still hoping some sort of agreement can be reached to avoid the cliff–adding he thinks the most likely scenario is 'the can being kicked down the road", or a stopgap solution that will not solve the problem, but will delay the worst impacts.