Barrasso Says Sebelius Not Prepared To Answer Questions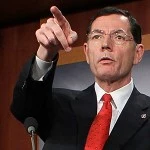 Wyoming Senator John Barrasso says Health and Human Services Secretary Kathleen Sebelius is "not prepared to answer questions" from states about implementation of the Affordable Care Act.
Barrasso also says it appears to him that Sebelius hasn't given much thought to the implementation of the act. Barrasso's remarks follow comments from Wyoming Governor Matt Mead last week that repeated letters he has sent to Sebelius with questions about the act–and specifically the health insurance exchange provisions–as long ago as June have not received any response.